US Census
By Bill Forry
Mar. 31, 2011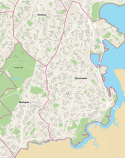 BRA map: Click for larger (4mb) ver.The Boston Redevelopment Authority — or BRA— says that there are 91,982 people living in Dorchester, based on newly-released data collected for the 2010 census.
If that were a correct count of Dorchester's residents, it would mean that the population of Boston's largest neighborhood dropped by nearly 1,000 souls over the last decade.
But, the city's planning department appears to have it wrong.
The BRA may have shorted Dorchester's population by tens of thousands of people, according to calculations done by the Reporter. Read more
By
State House News Service
Mar. 22, 2011
UPDATED (12:37 p.m.)— Secretary of State William Galvin issued a statement this afternoon indicating that census figures released today that showed Boston losing more than 14,000 people over the last decade were "erroneous."
Galvin says the correct numbers will be made available at a 2 p.m. press conference.
"I very much regret the confusion this has caused," Galvin said in a statement. Read more