By Colin A. Young, STATE HOUSE NEWS SERVICE
December 20, 2017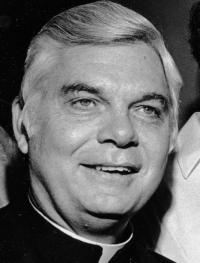 Cardinal Bernard Law, the former archbishop of Boston who resigned in shame after its was exposed that he participated in a coverup of clergy abuse by shuffling priests between parishes, died Tuesday, the Boston Archdiocese announced.
Law, 86, will be buried in Rome after a traditional Mass of Christian Burial, the Church said. Law's funeral Mass, scheduled for Thursday in Rome, will be said by Cardinal Angelo Sodano, the dean of the College of Cardinals, and Pope Francis is expected to participate in some way.
In announcing his passing, Cardinal Seán O'Malley acknowledged Law's failures and the public view of him as a protector of abusers, and apologized to everyone "who experienced the trauma of sexual abuse by clergy, whose lives were so seriously impacted by those crimes, and their families and loved ones."
"As Archbishop of Boston, Cardinal Law served at a time when the Church failed seriously in its responsibilities to provide pastoral care for her people, and with tragic outcomes failed to care for the children of our parish communities," O'Malley said in a statement. "I deeply regret that reality and its consequences."
Law was appointed archbishop of Boston by Pope John Paul II in 1984 and was elevated to the position of cardinal the following year. His tenure in Boston ended in 2002 when he resigned upon widespread reports that he helped cover up clergy sexual abuse of children, a scandal that rocked the Catholic Church in the early 2000s.
When he resigned, the Boston Globe editorial board wrote that Law "had become the central figure in a scandal of criminal abuse, denial, payoff, and coverup that resonates around the world."
Alexa MacPherson, a victim of clergy sexual abuse, said at a Wednesday press conference that she hopes "the gates of hell open wide" for Law.
"With his passing, I feel no remorse in saying that I hope he gets what he deserves in hell," she said. "There is nothing positive about him."
Though he engendered deep feelings of betrayal among Catholics, Law was not charged with acting illegally. Acting Gov. Jane Swift signed legislation in 2002 requiring clergy and religious officials to report suspected cases of child abuse to state officials, but church officials had not previously been legally bound to report suspected abuse.
An investigation led by then-Attorney General Thomas Reilly found "church records showing 789 victims have reported being abused, and 247 priests and 13 church workers have been accused of rape or sexual assault," the News Service reported in 2003. Reilly called the six decades of child sexual abuse by clergy involving probably more than 1,000 victims, and 250 priests and church workers, "one of the greatest tragedies to befall children in the Commonwealth."
Mitchell Garabedian, an attorney who has represented numerous victims of clergy sexual abuse, said at a press conference Wednesday that Law's death has created "an enormous amount of pain" for victims.
"I've been contacted by many victims last night and today who have informed me that they feel cheated by Bernard Cardinal Law's death. Bernard Cardinal Law was an enabler of clergy sexual abuse," Garabedian said. "The evidence indicates that Bernard Cardinal Law allowed innocent children -- innocent children -- to be sexually abused by Father John J. Geoghan when Bernard Cardinal Law knew that father John J. Geoghan was a serial pedophile. Bernard Cardinal Law did not warn the public, he did not warn parishioners, he did not protect innocent children."
Despite looking at conspiracy charges, accessory charges, mandatory reporting laws, and holding the church liable as a corporation, state criminal statutes did not allow prosecutors to file charges against senior church management, Reilly said at the time.
But the attorney general said the cardinal "bears ultimate responsibility for the tragic treatment of children that occurred during his tenure."
"There is overwhelming evidence that for many years Cardinal Law and his senior managers had direct, actual knowledge that substantial numbers of children in the archdiocese had been sexually abused by substantial numbers of its priests," the report said.
Upon his resignation, the disgraced cardinal left Boston for Rome, where Pope John Paul II named him Archpriest of the Basilica di Santa Maria Maggiore, a position that victims of clergy sexual abuse viewed as a soft landing for Law.
"Survivors of child sexual assault in Boston, who were first betrayed by Law's cover-up of sex crimes and then doubly betrayed by his subsequent promotion to Rome, were those most hurt. No words can convey the pain these survivors and their loved ones suffered," Joelle Casteix of the Survivors Network of those Abused by Priests said in a statement Wednesday. "Our only hope is that the Vatican keeps these survivors in mind when it comes time for the cardinal's funeral. We highly doubt there is a single victim of abuse who will ever receive the same attention, pomp and circumstance by Pope Francis. Every single Catholic should ask Pope Francis and the Vatican why."
O'Malley, who succeeded Law as the head of Boston Catholics, said it is a "sad reality" that Law's life and ministry are "identified with one overwhelming reality, the crisis of sexual abuse by priests," recalling his advocacy for the sick, poor and immigrants.
"This fact carries a note of sadness because his pastoral legacy has many other dimensions," O'Malley said. "Early in his priesthood in Mississippi Cardinal Law was deeply engaged in the civil rights struggle in our country. Later, he served in the Archdiocese and nationally as a leader in the ecumenical and interfaith movement following the Second Vatican Council, developing strong collaborative relationships with the Greek Orthodox and Jewish communities in Boston."