By Jennifer Smith, News Editor
February 1, 2018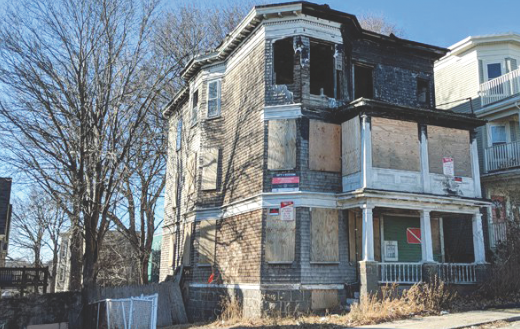 The city is again navigating a convoluted legal cat-and-mouse situation as it attempts to raze a longtime eyesore in the Ronan Park neighborhood, as the property owner files lawsuits tangling the process and stalling any decision to come from housing court.
The city's Inspectional Services Department (ISD) has been trying for years to encourage repairs and — more recently— to demolish the fire-damaged three-decker at 97 Mt. Ida Rd. The house, partially boarded up and in such unsafe condition that inspectors and firefighters are not permitted inside, was ravaged in a 2011 fire.
"We think this building has reached the point where it's become a public nuisance to the community," ISD Commissioner William Christopher told the Reporter on Tuesday.
Nearby residents have been complaining about the property for years. Before the 2011 fire, the city and owner James Dickey battled over conditions inside the building, which the city contends are unfit for human habitation. Dickey also lost a lawsuit brought by a tenant who had filed a formal complaint.
Court battles between Dickey, who represents himself in legal proceedings, and the city escalated in 2013, when ISD formally demanded Dickey either raze or repair the building. He did not make repairs to the fire damage, claiming in 2015 to be waiting for an insurance check.
City officials try to keep cases out of courts as much as possible, Christopher said, preferring to work with property owners to make necessary repairs or plan for necessary tear-downs. But Dickey has used a flurry of lawsuits to keep the courts from ruling to either demolish or put the house into receivership after he failed to make requested repairs.
"It's beyond a logical sense to repair this building," Christopher said. "It would be far more economical to demolish and rebuild the building, so at what point to you stop removing the destroyed stuff and put in new stuff?"
The house has been exposed to extreme weather, resulting in high moisture content and non-functioning electrical and heating systems.
"It's putting a band-aid on over and over and over," Christopher said. "At a certain point it just doesn't make sense to do that."
As it stands, Christopher said a scheduled housing court hearing this month would have asked a judge to rule on assigning a receiver for the building.
Dickey instead filed to have the case remanded to federal court, alleging his rights are being violated by a conspiracy involving the city and housing-court officials to "seize and sell property owned by African-Americans to friends of the court, for pennies on the dollar." Dickey is white.
The United States Supreme Court returned a response on Monday, Jan. 27: The petition for a writ of certiorari is denied— meaning the court refused to hear the case.
Lower courts are unable to rule while a case in pending in a higher court. There is no hearing yet scheduled for when the case makes its way back to housing court, Christopher said.
He hopes the judge is allowed to make a prompt ruling.
"We're confident it will go that way but you never know," Christopher said. "Fingers crossed that the judge appoints the receiver and the receiver takes control."
The extended appeals process is a good protection for landlords and the city against irresponsible overreach, Christopher said, but this constant change of venue requests and suits across jurisdictions is unusual.
Mt. Ida Road is the Sudbury-based Dickey's last remaining property in Boston, Christopher believes.
A South Boston house he owned had similar deferred maintenance issues over poor conditions, which was ultimately handed to a receiver.
"Mt. Ida is his last hold in the city, and he's just fighting," Christopher said.