By Jennifer Smith, News Editor
June 4, 2018
Perhaps the most iconic housing stock in the city, the humble-three decker is having a moment of late.
A day-long conference in April assessed its place in a land-crunched city; a New England transplant and filmmaker Marc Levitt is creating a documentary, "Triple Decker: A New England Love Story;" and the structures remain a staple background feature in every Boston-based film or television series, like the upcoming Ben Affleck and Matt Damon-produced "City on a Hill."
As they are increasingly turned into condominiums, three-deckers selling for upwards of $1 million is no longer an astonishing occurrence. Once seen as the perfect setting for three family units, they are as likely to house a posse of graduate students as they are young couples, professionals, or a multi-generational family grouping spread upward on three floors.
Between 1880 and 1930, about 16,000 three-deckers were built in Boston, housing about 192,000 people, according to the New England Historical Society. They were popular across the city with lower-class residents, immigrants, and mill workers. But after the boom, production slowed and the city's stock of the classic wood-framed housing type dropped. In 2013, when the city hailed its three-decker rehabilitation programs as a success, housing officials estimated that there were about 9,000 three-deckers in Boston.
Few are being constructed. Of the 1,739 building permits for new construction approved since 2010 and logged through the Inspectional Services Department, about 160 are for some sort of three-family dwelling. Only one describes a classic three-decker structure by name, although a handful of others describe tight, stacked, three-family style with porches that could reasonably fit the model.
The time to apply for and receive permitting approval for new construction has dropped precipitously in the past few years, city data show. Of all housing types, three-unit homes saw the greatest reduction in wait time from 2014 to 2016 — from 485 days down to just 53.
The three-deckers already in existence are stable elements across the city, tightly packed features of streets in outlying neighborhoods.
They were easy to construct in the boom that began roughly 140 years ago. Small builders, carpenters, and architects "succeeded remarkably in housing and helping the poor," Howard Husock wrote in his 1990 article "Rediscovering the Three-Decker House." Although New England has a higher density of wooden three-deckers than anywhere else in the country, they exist mostly outside of the historic Boston downtown, where zoning rules were put in place to limit their construction.
Early on, variants of three-deckers were solid investment properties for wealthy builders who could live in one house and use neighboring ones for rental income. But the housing stock was maligned by anti-immigrant groups, said independent museum consultant Deedee Jacobsohn at the April conference at All Saints Church in Ashmont. Housing organizations, partnering with the Immigration Restriction League, claimed they were made with balloon framing, were structurally shoddy, susceptible to fire, and had crumbling roofs and chimneys.
In a 1911 report, the Massachusetts Civil League and the State Housing Committee wrote: "Foreigners are coming in increasing numbers, and with them are also coming the shack, the converted house which has seen better days, the familiar frame tenement, and the wooden "three decker" which, besides being objectionable on other grounds, is a flimsy fire-trap and a menace to human life."
The three-decker underwent a rebranding in the Kevin White-Ray Flynn era of 40 years ago, a few decades after "triple-decker" started to be applied to the houses to make them seem more palatable to new middle class buyers. And that trend continued into the new century.
In the 2017 Greater Boston Housing Report Card, researchers at Northeastern University found that "millennials are doubling, tripling, and quadrupling up in triple deckers." Student housing data show that multi-family housing in Boston is increasingly being occupied by undergraduates and graduate students alike, with some 16,685 living in private housing properties of three units or fewer, or condominiums.
"These students place particular pressure on Boston's workforce housing market, as Boston's triple-deckers and other one- two- and three-family properties were originally built for Boston's workforce," the annual Student Housing Trends report reads, "while most condominiums were generally intended to be owner-occupied housing. In some cases, students are living in condominium units purchased by parents as an investment to provide housing while their children are in school, which will later be sold when the student graduates. Other condominium units are rented at a profit to students by investor-owners."
A New England Building Supply list in 2016 noted a few of the major priorities in updating classic three-deckers. As the bulk were built around the turn of the 20th century, with different standards for efficiency, three-deckers, like most older homes, are in line for upgrades in insulation.
Much of the other work involves smaller things, geared around the classic features of the housing type. With the standard wooden three-decker and its six porches — a front and back porch on each floor — and older windows and doors on the exterior, regular maintenance is needed to ensuring that the structures do not sag or warp and that air doesn't leak into the shared stairwells and throughout the structure.
For all that, the market is turning friendlier again to the prospect of three-deckers as investment properties. As Barry Bluestone of the Boston Foundation explained at the Ashmont conference, three-decker prices have soared 127 percent since 2009. The median price for a greater Boston three-decker is now about $555,000.
The legendary Ted Williams's former Brighton three-decker, where he lived with teammates Billy Goodman and Mel Parnell when he played for the Red Sox in the 1940s, sold in 2015 for $1.15 million. It is now assessed at $1.078 million, a tripling in value over the last 20 years.

Ted Williams' former home
Sally Zimmerman, the preservation manager for Historic New England, said in a New England Historical Society review of three-deckers that the housing type would likely have been demolished and replaced with smaller structures if it hadn't been for the condominium, which she called "the real savior of the three-decker."
Updates on the three-decker model are popping up here and there, from Charlestown to South Boston to Roxbury to Jamaica Plain to Dorchester, some of them offering more contemporary features.

A recently constructed Jamaica Plain three-decker. Google Maps image
And for developments moving into Dorchester, three-decker style townhouses are being seen as a neat way to add homeownership units that feel coherent with neighboring homes. The approved design for the forthcoming and long-awaited Indigo Block development in Uphams Corner includes three three-decker homes in its design.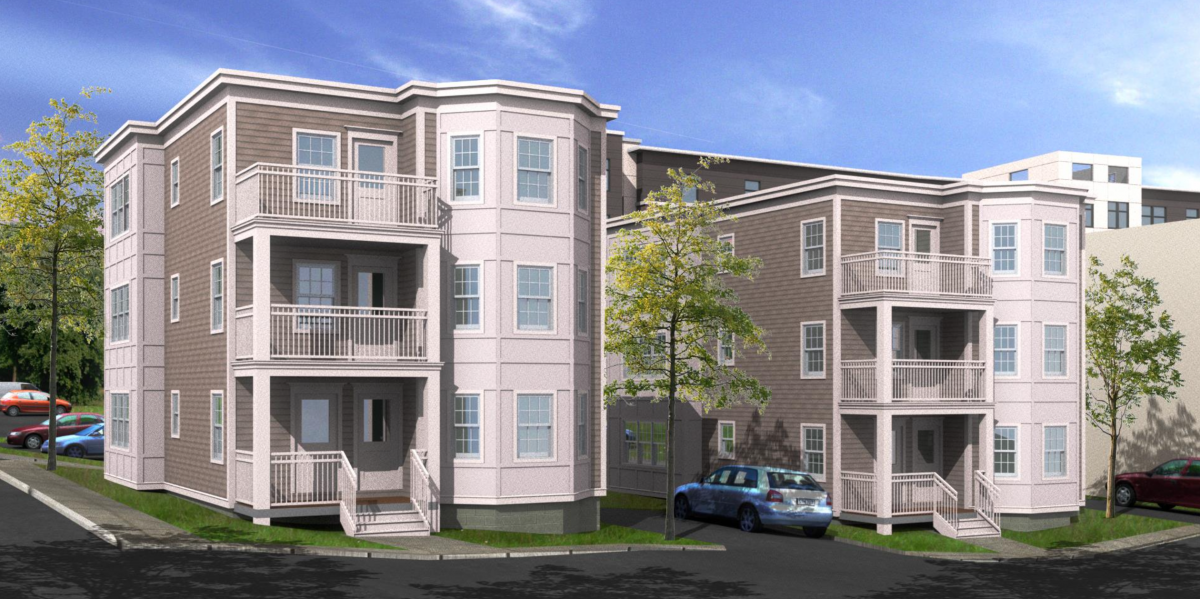 The three-decker styled units included in Indigo Block. Rendering courtesy Dorchester Bay EDC