By Jennifer Smith, News Editor
February 5, 2018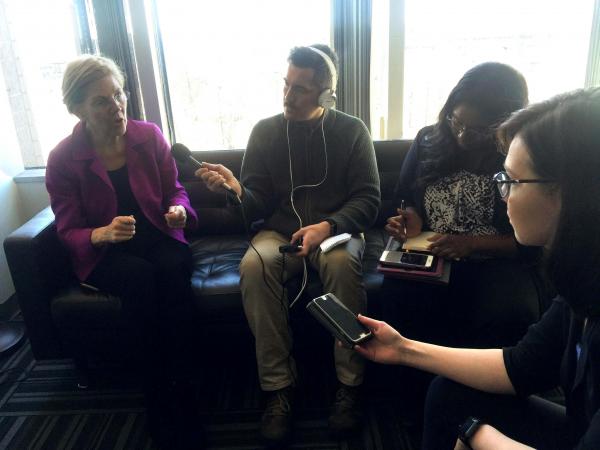 Community health centers are edging ever closer to a "funding cliff" that would severely limit their ability to provide critical local care services, and US Sen. Elizabeth Warren this week leveled a sharp critique at congressional Republicans who she says are the using the centers' funding "as a bargaining chip."
A group of 11 neighborhood health center leaders submitted an op-ed to the Reporter this week, decrying the continued standoff in Washington. Federal funding expired for community health centers in October 2017, bringing the providers ever closer to a dire shortage of funds, they wrote.
Centers are starting to enact layoffs and service reductions in an attempt to stretch their existing budgets, heavily dependent on federal dollars. Without congressional renewal, about 70 percent of the health centers' funding has been cut. Many are planning for site closures.
In a visit to the Dorchester Reporter offices, Warren said the standoff over these dollars is "an indication of politics at its worst." Still, she said, "We're going to get community health centers funded."
Community health centers offer affordable, high-quality health care, from primary care to opioid treatment and prenatal care, providing dentistry, counseling, and access to low-cost prescription drugs. Between them, the Bowdoin Street, Codman Square, Dimock, DotHouse Health, Geiger Gibson, Harvard Street, Mattapan, Neponset, Uphams Corner, Whittier Street, and South End health centers serve more than 148,000 patients, or one in six Boston residents.
"Community health centers are about health in the fullest meaning of the word," Warren said. "Yes, it's about colds and cancer screenings, but it's also about all the things it takes to make a family healthy and keep a family healthy. The federal government needs to step up as a partner here and put in the funding so that our community health centers can count on the fact that they will have the resources they need to continue their work."
Legislators on both sides of the aisle understand the need for such centers, but Democrats control neither congress nor the presidency, she noted.
"I believe we will reach an agreement, because this is such a high priority for Democrats," she said. "The fact that this is such a high priority for Democrats is part of the reason that the Republicans have held this program hostage. But we will get there. Community health centers are too important to people, and frankly they save a lot of money in the healthcare system."
Sen. Bernie Sanders, of Vermont, noted in an October op-ed in the Boston Globe that "community health centers have played a pivotal role in generating more than $49 billion in savings to the entire health care system."
Across Dorchester, Mattapan, Roxbury and the South End, a potential loss of close to $13.1 million in funding puts more than 10,721 patients at risk, health center advocates wrote in the Reporter op-ed.
After the public launch of Dot Rx — a prescription-based program that connects Dorchester families with peer health coaches and local experiences that promote healthier lives — on Monday, Mayor Martin Walsh told the Reporter the community health center crisis could "have real impacts" on neighborhoods that depend on them.
"I'm worried about that," he said. "I'm worried about what the national budget impact's going to have on local health centers, local economies...I think that's going to have a big impact. Health centers are the cornerstone of a lot of neighborhoods, like Codman Square. I mean, it's the economic engine, it's the health provider."
Reporter Staff Dan Sheehan contributed to this report.