By Jennifer Smith, News Editor
May 23, 2019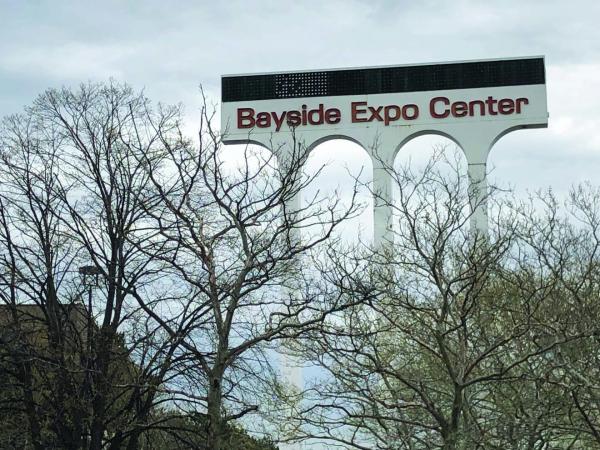 The former Bayside Expo Center is now a wide expanse of parking lot on Columbia Point, but the towering three-legged sign that once welcomed people to the facility still stands due in part to an ongoing property dispute that has held up potential construction on neighboring lots for years.
State Sen. Nick Collins is frustrated enough that he has now filed legislation to address the issue. With the support of state Rep. David Biele of South Boston, he filed Bill S.1815 early this term. It states, in full: "Notwithstanding any general or special law to the contrary, no development of the property known as "Bayside" owned by the University of Massachusetts on Columbia Point in the city of Boston shall proceed without first decommissioning and deconstructing the Bayside Expo sign on the site."
UMass owns the former Expo site. The exposition building has long been demolished and the space is being used as a parking lot while the university finishes inking a long-term land lease deal with the development firm Accordia Partners that could generate up to $235 million for the UMass Boston campus and lead to a massive mixed-use waterfront development.
The university also owns the plot of land on which one of the three legs of the Bayside sign sits, the legacy of a complicated negotiation around intermingled utilities and site access stemming from UMass's purchase of the Bayside property in 2009.
The other two legs are rooted in land under the control of Corcoran Jennison, a development company that owns parcels on either side of the roadway into the Bayside site, including the Bayside Office Center building and the Doubletree Hotel. (Disclosure: The Dorchester Reporter is located inside the Bayside Office Center, which also houses the Mass Lottery, the state's Registry of Vital Statistics, and UMass Boston office space.)
Corcoran Jennison has for years tried to move ahead with a plan approved by the city in 2014 for building a 184-unit apartment building and shops in the parking lot in front of its office building. But that project depends on the sign coming down, along with other related access issues.
"The private entities on Columbia Point have been trying to move forward on a project," Collins said Monday. "It's costing small business, and other organizations like construction teams, time and money."
He described UMass's refusal to budge as a "negotiating tactic" that is preventing potentially tax-generating projects from moving forward. "We have a public institution right now stifling private development," Collins said.
Biele did not submit corresponding legislation in the House, though the Senate bill is being deliberated in committee. UMass declined to comment and Corcoran Jennison did not respond to requests for comment by press time.
The Expo Sign bill was discussed in a joint State Administration and Regulatory Oversight hearing on April 1, along with other potential bills. Since then, Collins said, "it hasn't moved."