By Reporter Staff
August 15, 2019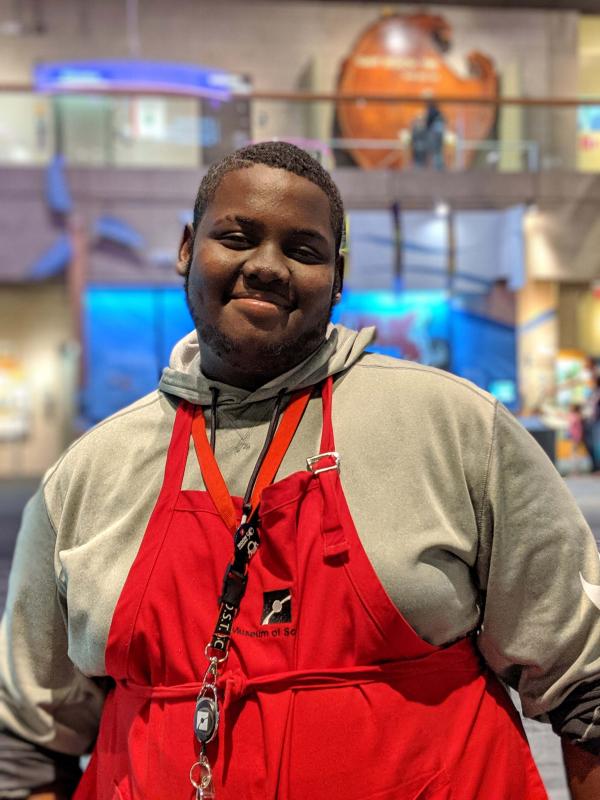 Most students get asked, "What did you do on your summer vacation?" But not many can say that they taught people an array of science topics from biology to chemistry as an intern at the Museum of Science.
DeShawn Jones Jr. of Dorchester can.  A recent graduate of Fenway High School, Jones has spent his summer assisting visitors at the Museum of Science through its Summer Youth Internship Program, where he facilitates hands-on activities with attendees of all ages.
This is Jones's third summer working with the Museum as a Summer Youth Intern. In total, the Museum's Summer Youth Intern program hosts 39 high school students and recent graduates for internships at the museum in a variety of departments, from working directly with visitors in the exhibit halls to supporting Museum operations behind the scenes.
Jones values the colleagues he has worked with at the museum and the network he has built there.
"My favorite moment while working at the museum was having all of my co-workers attend my final internship presentation of my junior year," Jones recalled. "It was wonderful to have that support before I started my senior year of high school."
This fall, Jones will be attending Framingham State University. His internship at the museum has led him to realize his dream of pursuing a career in science."Working at the museum has been really impactful to my life," Jones said. "When I started at the museum two years ago, I didn't know what I wanted to study. However, working here made me realize that I wanted to study chemistry."