By Daniel Sheehan, Reporter Staff
April 11, 2019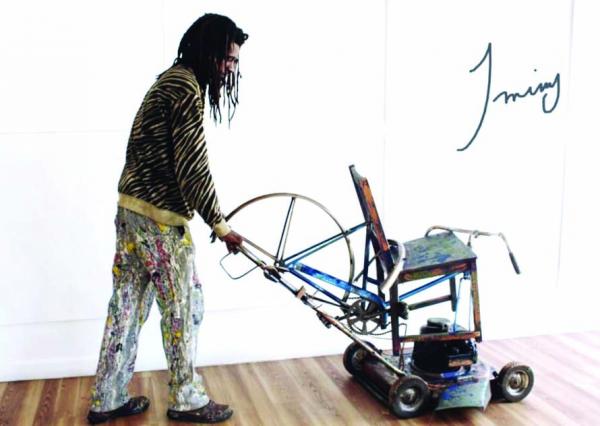 ArtWeek, the annual creative festival presented by the Highland Street Foundation and produced by the Boch Center, has announced its largest lineup ever this year. It will feature nearly 600 events over 10 days in 125 towns and neighborhoods across the state, five of which will take place in Dorchester.
The festival, which runs from April 26 through May 5, will feature the following events in Dot:
• The Cross Cultural Collective (C3) Black Arts Mix and Mingle will take place from 6 p.m. to 8 p.m. on Sat., April 27, at the Whittier Community Room at 86 Southern Ave. This free event, hosted by C3, a "Black arts collaborative that elevates, celebrates, and promotes African diasporic arts and their creators in Boston," will feature "arts and music showcasing, community building, and audience participatory visioning for an inclusive Boston."
• ArtWeek at the Franklin Park Zoo will take place from 10 a.m. to 2 p.m. on Sun., April 28. At this event, attendees will be able to observe artists from the New England Watercolor Society as they paint likenesses of animals and ask questions about their processes. Bow Seat Ocean Awareness Programs will also have a pop-up art exhibit featuring works from students. This event is free with price of admission.
• Mind of an Introvert 2 will take place from 7 p.m. to 11 p.m. on Thurs., May 2, at the Afro-Caribbean Museum at 155 Washington St. In this solo show, Dorchester-based artist Mfalme Kenyatta will introduce new works, including paintings, drawings, and found object sculptures. Admission is $10.
• Afro-Caribbean Museum Open Mic will take place from 7 p.m. to 11 p.m. on Fri., May 3, at 155 Washington St. This free event will feature some of Boston's most talented poets, who will be accompanied by musicians. Audience members will also have a chance to perform a poem or freestyle.
• Comics in Color (CiC) will take place from 2 p.m. to 4:30 p.m. on Sat., May 4, at the Grove Hall branch of the Boston Public Library at 41 Geneva Ave. This free event will provide a safe space for comic book enthusiasts to "nerd out" about illustrated stories by and about people of color. Featured guest Jamal Simmons, aka JAM Sketch, will discuss his new book "Rumble Buddies" and lead a discussion about self-publishing web comics.

Comics In Color is a safe space where people can "nerd out" about illustrated stories by and about people of color. Photo courtesy Zach Galasso
As to the overall event, Sue Dahling Sullivan, chief strategic officer for the Boch Center, explained that the festival's mantra of "art for all" is rooted in the goal of breaking down barriers of affordability and accessibility that often stand between people and art; 70 percent of ArtWeek events this year are free, she noted.
"This year we've doubled our number of community partners to 138, [which] shows the appetite, especially at the community level, to want to showcase all of our creative assets where they live and work."
While art is on display year-round at places like museums and concert halls, Sullivan conceded, she added that ArtWeek provides a unique opportunity for interactive, hands-on events that are "a little extra special. This is really more about some of the hidden gems that are off the beaten path," she said. "Wherever you live, there's more creativity and arts going on than you can imagine."