By Bill Forry, Editor
April 10, 2019
Earlier suspect jailed, released; family asks why no apology
(Updated— Wed., April 10, 1:40 p.m.) — A 26-year-old Dorchester man was charged on Tuesday with killing Codman Square gas station worker Jose Williams during an armed robbery last October. The accused, Gregory Simmons, hid from view behind a door in Dorchester District Court during his arraignment, where he was ordered to be held without bail by Judge Paul Coffey.
He faces one charge of first-degree murder and several others related to a rash of armed robberies last year in Dorchester, Mattapan, and Canton.
Simmons is not the first person to be accused and arraigned in the murder of Jose Williams. Boston Police initially arrested another Dorchester man, who was arraigned and held without bail the next day. But the DA's office dropped the charges against him last November, five weeks after he was sent to the Nashua Street Jail.
The victim— Jose Williams, 63— was accosted by a gunman on the night of Oct. 5 as he worked a late shift at the Fabian gas station at the corner of Melville Avenue and Washington Street. In court this week, a Suffolk County prosecutor told Judge Coffey that a surveillance camera recorded images of the assailant walking up to the gas station's door around 11:30 p.m. that night. The suspect, described as a tall, light-skinned black male who was wearing a black mask with red markings on it, was seen running back down Melville Avenue right after the shots were fired, the prosecutor said.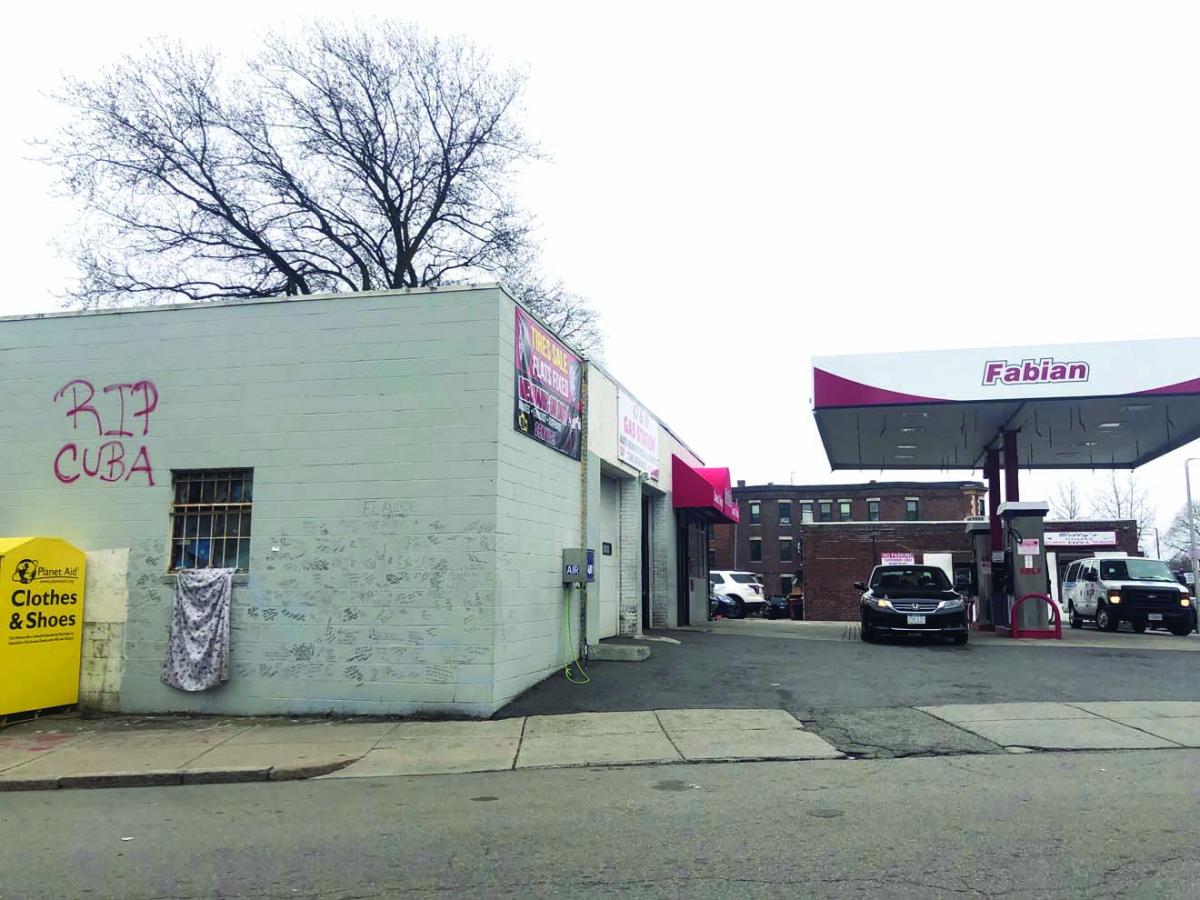 The scene of the murder of Jose Williams is the Fabian gas station at the corner of Melville Avenue and Washington Street.
On Tuesday, Assistant District Attorney Jennifer Hickman told the judge that Simmons has admitted to police that he drove the shooter to the Washington Street gas station on the night in question. Cell phone records were also key to the state's evidence against Simmons, Hickman said. The records, she said, tie Simmons to two other armed robberies last fall at wireless phone stores on Blue Hill Avenue and Walk Hill Street.
According to District Attorney Rachael Rollins's office, Boston Police homicide detectives and Suffolk prosecutors have "jointly undertaken" the investigation over the past six months. Boston Police said Simmons also has "multiple active warrants out of Stoughton District Court on charges of armed robbery." He is due back in court for a probable cause hearing on May 8.
In a statement released on Wednesday that characterized Simmons as an "alleged lookout" in the murder, DA Rollins said the investigation "is a priority for me and my administration."
"The prosecutors in my Homicide Unit will follow the evidence wherever it leads, with one goal: to find the truth and put it to a Suffolk County jury. Jose Williams, his family, and the community deserve nothing less than our best efforts."
District Attorney Rollins said the investigation into Jose Williams' homicide has remained active during her time in office and that the evidence at this time supported charges against Simmons, who allegedly acted as a lookout during the attempted robbery. Prosecutors say the gunman fled down Melville Street, where Simmons was waiting for him. A search warrant on cell towers in the area revealed that phones in use at that time and location were also in close proximity to several other armed robberies with similar features in and around Boston.
Monday's arrest of Simmons is the first break in the murder case since last November, when prosecutors released 21-year-old Kevin Williams from custody. Williams— no relation to the victim— was arrested on the night of the murder and arraigned the next day. Prosecutors later said that his arrest that night was supported by a detailed description of the assailant by an "independent percipient witness at the scene"; a positive identification of Williams as the gunman; and corroborating video footage.
But, Williams's attorney vehemently denied the allegation from his client's first court appearance. Five weeks later, prosecutors "concluded that the evidence was insufficient to establish guilt or innocence" and filed to withdraw the charges.
In a statement released at the time, then acting-Suffolk District Attorney John P. Pappas said "the ethical step was to withdraw the charges prior to the first scheduled court date as that investigation continues."
At the time, Williams's family demanded an apology from the police and the district attorney's office and an explanation for why he was arrested and charged in the first place.
On Tuesday, Kevin Williams's mother, Regina Hunter, said that she learned of the new charge in the case from news reports. She is dismayed that her son's name has never been explicity cleared and no apology has been forthcoming.
"They haven't even acknowledged my son's innocence yet. You're talking about a kid with no criminal record and they villainized him," Hunter told the Reporter. "It was rush to judgment and they failed to do a proper investigation. Now they are arresting another person and you're not bringing light to the fact that [Kevin] didn't do this?"
DA Rollins did not comment on the Williams case directly this week. However, a spokesman for Rollins said the investigation into the murder of Jose Williams remains "extremely active," adding: "We continue to urge anyone with additional information to share it with police or prosecutors."
Editor's Note: This article originally reported that the victim— Jose Williams—was 67. In fact, he was 63 at the time of his death, according to the DA's office.