By Jennifer Smith, News Editor
May 3, 2019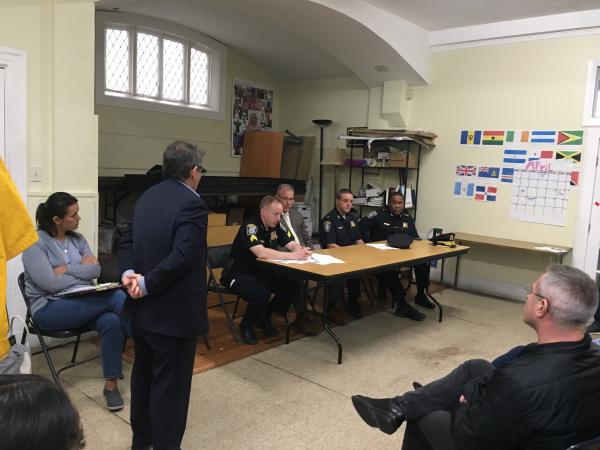 Dozens of people packed a meeting in Jones Hill on Thursday evening for an update on a fatal quadruple shooting the day before and to seek guidance from officials on how they might help prevent a similar tragedy in the future.
Just before 6:30 p.m. on Wednesday, May 1, police responded to a radio call for shots fired near 32 Windermere Rd., arriving to find four men in their mid-to-late 30s suffering from gunshot wounds.
They had been sitting in a car midway between Stoughton Street and Cushing Avenue, Police Commissioner William Gross told reporters later that night. One man was declared dead at the scene, later identified as Kevin Brewington, 33, of Allston. The three others were taken to hospitals with non-life threatening injuries.
Gross said Wednesday that the preliminary investigation suggests the shooter was on foot and that the car was stopped when the four victims were shot.
Police told the crowd packed into St. Mary's Episcopal Church on Cushing Avenue the next evening that no arrests had been made in the case and it was still an open investigation. They do not, however, believe it to be a random act of violence.
"We have people working on it to see, who are the targets here, who do we think might have done this, and if so, what other areas could be affected," said Bureau of Investigative Services Superintendent Paul Donovan. "So, we have resources like that out there. If you don't see uniformed officers, that doesn't mean the police aren't there. We're around."
People at the meeting worried about the possibility of retaliation on their blocks. One neighbor who lives across the street from the scene said the perpetrators would probably "come back and finish the job."
Officers pointed out that the flood of police to an area after a shooting dramatically decreases the odds that any retaliation would occur nearby.
"We don't know that they're going to come back and finish the job," Donovan said. "It's all part of the investigation. Is that a possibility? Anything's a possibility, as with what just happened. We wouldn't have thought it that was gonna happen before it did, but it did. So, can I stand her and say 'that's not gonna happen'? No. But there's no information, no intelligence or evidence that retaliation is going to happen."
If that were to change, Donovan said, they will "adjust" their strategy and resources accordingly.
An increased police presence will patrol the area until this is solved, Donovan said. A car has also been stationed on Hancock Street for some time. They are examining public and private video footage for leads as well. Lantel Phone Systems is donating two cameras to the Jones Hill area.
Donovan was joined by community service officer Sgt. Brian Dunford, Bureau of Investigative, C-11 Captain Steven McLaughlin, Deputy Superintendent Felipe Colon in St. Mary's. Councillors Frank Baker, Annissa Essaibi-George, Michelle Wu, and Michael Flaherty were in the room, as was state Rep. Dan Hunt and a representative from state Sen. Nick Collins' office. Attendees came from across several nearby civic areas.
Hancock Street Civic Association member Marti Glynn asked if this was believed to be a gang incident. McLaughlin said the gang unit is involved and it is believed to have been a targeted shooting.
Much of the later part of the meeting revolved around how to best keep police abreast of potentially violent activity. Officers said to call about any suspicious behavior, or with any information, through 1-800-494-TIPS or 617-343-4470.
Members of the street work team of social workers said they worked with at-risk groups to try to divert them out of violent paths toward jobs, housing, and mental health assistance.
One mother of three young children said conversations among the community of late that, given the historic over-policing of black communities, concluded "we shouldn't call the police on our black neighbors unless someone is being murdered or raped." How, she asked, should they weigh out "not calling the police on our African-American neighbors for nothing, but also be vigilant?"
Tracy Litthcut, with the mayor's office of public safety, said neighbors should have no qualms about calling the police.
"The gang issue that happens, when folks are killing each other, is a black community issue," said Litthcut, who is black. "These kids that are shooting each other in different parts of the city are black. Law enforcement, and I've done this work for a number of years in a number of directions, they're all over it as much as they can be. You see something that's going on in the black community that does not look right, you call."
Other police officials agreed, emphasizing that mistaken calls would be, at worst, an embarrassment or inconvenience.
"Don't feel bad if you're wrong," Litthcut said. "If the kids are good kids, they'll get released."
Some pointed out that it becomes harder to identify suspicious behavior if neighborhoods remain relatively isolated along class or racial lines, unaware of who lives nearby. Resident Olivia Dang said it starts with an introduction to folks who maybe live just a few streets over.
Councillor Baker concurred, just as the meeting wrapped up. It takes a combination of safety nets to address the root issues of systemic violence, he notes, but within a neighborhood sometimes a small step is greeting neighbors.
"If you see a neighbor, and maybe he's smoking a blunt or maybe she's smoking a blunt, this means a lot: "Hi, how are you?" Baker said. "And I think it's important that you say it."
Just a few blocks in either direction from Jones Hill, a handful of fatal shootings and stabbings happen each year – closer to Stoughton Street, Hancock Street, and Columbia Road.
"There's this attitude of, 'Oh my God, it happened on Windermere, so everyone's upset," Dang said. "This happens all the time just across Columbia and we're not upset, and I think that's really messed up. And this attitude of "We're Jones Hill, we're immune to this. This never happens." That's not true. We're not immune to this."
Support local journalism! Subscribe to the Reporter— just $30 for 52 weeks!