By Daniel Sheehan, Reporter Staff
April 30, 2019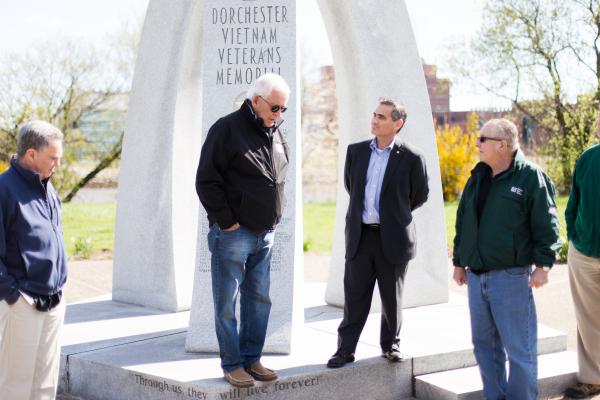 Roughly six months after a vandal targeted the Vietnam Veterans Memorial on Morrissey Boulevard, the site has been outfitted with a security camera to deter any future attempts at vandalism.
City Councillor Frank Baker, who represents much of Dorchester, said he had worked with memorial committee representatives, UMass Boston, and folks from Eversource and Sullivan & McLaughlin to get the camera installed. He noted that camera, a donation from Sullymac, will be connected to the UMass Boston security system.
"UMass agreed to monitor it for us, which is a big thing," said the councillor. "The funny thing is this is the first [memorial] to be vandalized; since then we've seen the South Boston one and others get vandalized after ours did...Hopefully nothing else happens, but you never know."
The memorial, which abuts Savin Hill Cove, was constructed over 30 years ago under the leadership of a committee of veterans, including Joe Zinck, who now serves as president of the Dorchester Vietnam Memorial Committee. After it was vandalized last October, crowdfunding efforts raised more than $20,000 to repair damage to the stonework and surrounding shrubbery.
Support local journalism! Subscribe to the Reporter— just $30 for 52 weeks!