By Daniel Sheehan, Arts and Features Editor
January 29, 2020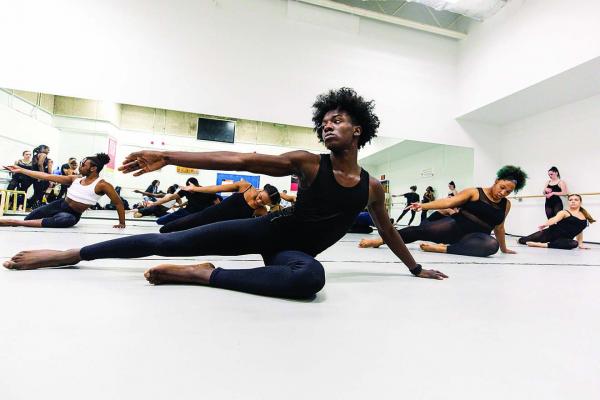 Last Friday, dance majors at the Boston Arts Academy in Fields Corner were treated to a masterclass taught by professional dancers from the world-renowned Alvin Ailey American Dance Theater.
Dancers Solomon Dumas, Khalia Campbell, and Jessica Pinkett led an hour-long workshop in which they coached students through a dance routine and broke down some of the keys to a dancer's approach to the artform.
Bianca Dias, a senior dance major at the school, described the calming effect that the pros had on the students throughout the workshop. 
"A lot of times with masterclasses, especially with a name like Ailey, everybody's coming in nervous, they're like, 'I have to be uptight and perfect.' But then the instructors come in and have all this light energy and bubbliness and it makes everyone chill and relaxed."
Sophomore Taylor Emerson said the experience encouraged her to pursue her goal of dancing professionally one day.
"[Solomon Dumas] made it known that he was in our place at some point and he got to where he is now," she explained. "It really helps us envision that we can do this because sometimes we doubt ourselves...but when someone shows you that they've been in our shoes and struggled the same way, it's inspiring."
Dumas, left, describes his arts education outreach work as "cathartic." Robert Torres photo

For Dumas, who discovered his love of dance through AileyCamp, the company's regional introductory dance program for kids, before going on to become a member of the company himself, the workshops are "cathartic" and offer a chance to give back.
"Dance really was the vehicle that taught me discipline and confidence and really developed my person," said Dumas. "It was a safe haven and a place where I could express myself, which wasn't a social norm where I came from because I grew up on the south side of Chicago where dance wasn't the norm for a young man in the 90s."
During the workshop, Dumas spoke to the importance of "owning" one's dance style and offered students some words of guidance, reminding them they have "everything to share and nothing to prove.
"Oftentimes it can be an intimidating space," he said of the dance environment. "Sharing your gift and sharing your uniqueness, it inspires others to have more agency over their uniqueness and it gives them permission to share their excellence, and so I always feel that when we teach each other to share, it gives students the idea that they already have gifts within them — they don't need to prove it."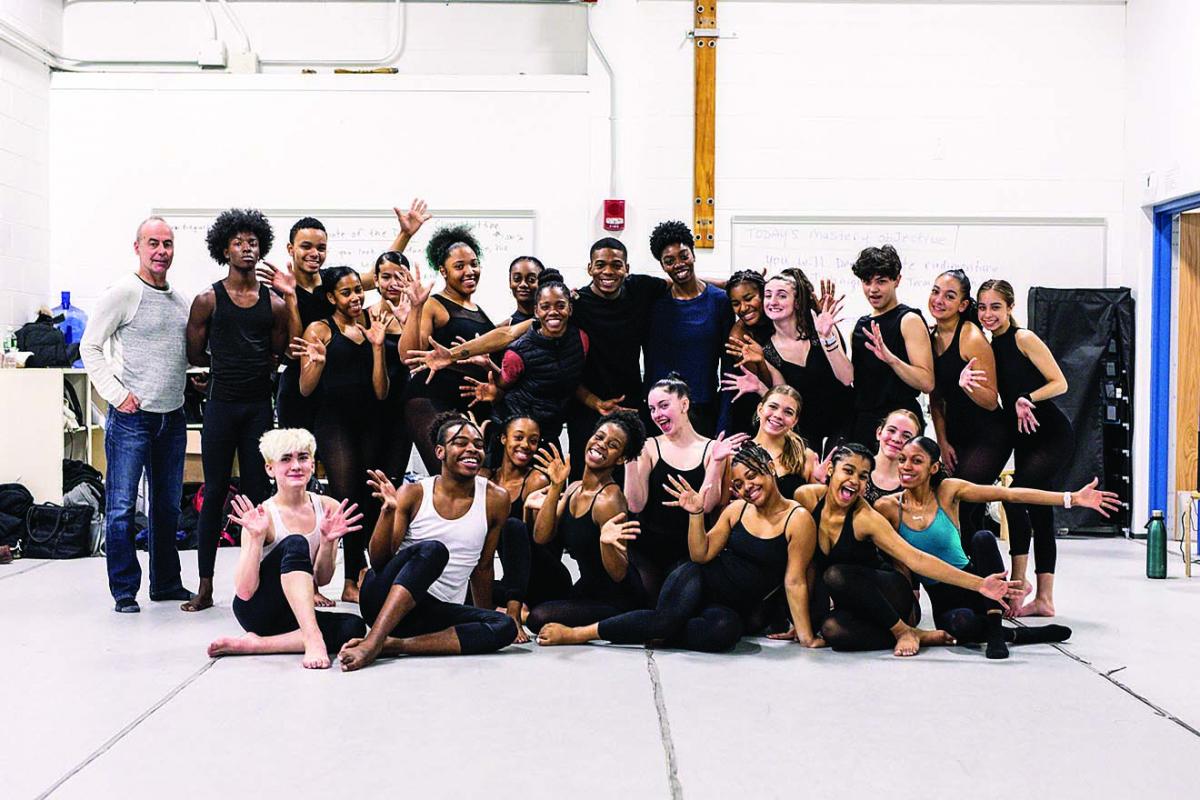 The group of BAA dance majors was all smiles following their masterclass with Solomon Dumas, Khalia Campbell, and Jessica Pinkett of the Alvin Ailey American Dance Theater company. Robert Torres photo

Following Friday's session, the Alvin Ailey troupe led demos at Charlestown High School and the Blue Hill Boys and Girls Club. The company will return to the Boch Center from April 30 through May 3 for its annual run of performances sponsored by the Celebrity Series of Boston.

Get the Dorchester Reporter— the paper of record for Boston's largest and most diverse neighborhood—delivered to your door for just $30 per year.
That's 52 weeks of the Dorchester Reporter delivered by USPS for just $30.
Support our brand of community journalism AND get the print edition delivered to your door each week— the best deal in town!
Click here to submit your order with PayPal:
Or call 617-436-1222.