By Katie Trojano, Reporter Staff
October 2, 2020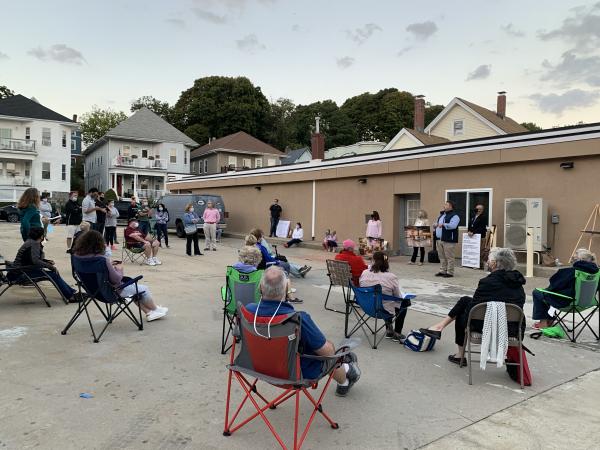 A proposal to site a 3,000 square foot retail cannabis store in a key commercial building in Adams Corner was the topic of contention during an in-person meeting of the Ashmont-Adams Neighborhood Association on Thursday evening. The proposal by CNA Stores, Inc., a company based in Amesbury, MA, is the latest in a series of proposals in Dorchester, but the first for the Adams Corner-Neponset section.
About 50 neighbors gathered in the parking lot of the Plasterers Union Hall on Minot St. and many spoke in opposition of the project, which was generally well received by the Cedar Grove Civic Association in their virtual meeting last week.
Preliminary plans for the Dorchester facility would include a retail site in a roughly two-story building at 540 Gallivan Blvd., which currently houses Supreme Liquors, Boston Sports Club, a dental office and the specialty clothing retailer College Hype. The cannabis shop would be located in the building's basement level— next to College Hype's space— and would be accessible through the rear of the building, facing the large parking lot that is controlled by Supreme Realty Trust, which owns the building. The facility would operate from 10 a.m. to 8 p.m.
Dianne Morad, a Dorchester native who is a liaison for the CNA team explained that the team is in "the early days" of their process, and hasn't formally started any process with the city.
"The state legalized recreational adult cannabis use a couple of years ago and since then the state has been working to develop regulations and a licensing process. According to state law the city needs to license a minimum of 52 cannabis establishments," said Morad.
"The city has been pretty explicit about saying that those licenses are going to be dispersed pretty evenly so that no neighborhood has a whole pile or has a complete absence of them. The city has also instituted a half mile buffer zone between establishments."
Robert DiFazio, the owner and CEO of CNA Stores Inc., said that the team would work with the surrounding community on a benefits package and would hope to be a "partner you can work with."
"We're not some big company," DiFazio added. "I started this company with my own money. We want community input so that we can improve what we do and make it better and safe," he said.
If approved, the Dorchester location could employ anywhere from 15-30 people. No persons under the age of 21 would be allowed in the facility and security guards would be positioned at the entrance of the store to check IDs. The added layer of security, DiFazio said, would be a benefit to the surrounding community.
But people who gathered to hear the proposal largely spoke against it. One woman said: "People are going to go in there and buy drugs. I have a huge problem with this being in my neighborhood. I've lived here my entire life and I have never come to a meeting but I'm here to tell you that I'm 100 percent against this and you couldn't pay me a million dollars to support your recreational marijuana store."
Several people who said they were parents of young children and teens also voiced their opposition.
"I know it's normalized but I don't want my kids thinking it's harmless when it's packaged in this nice way," said one mother.
Another attendee told the team that their proposal was out of place and in "one of the only real neighborhoods left in Boston."
He added: "You didn't grow up here, you grew up in Haverhill. This is a different neighborhood."
Some urged the team to find a different location for their cannabis retail store.
"The voters voted to make marijuana legal. That law passed and there's not a lot we can do about it. This gentleman has the right to run a business, however this is our neighborhood and that area is the hub of this neighborhood. This is one of the last real neighborhoods left in the city," said one attendee.
"There are five bar rooms and restaurants down there and a liquor store. Kids are kind of inundated with it and there are a lot of teenage kids in this section of the city in their formative years. I don't know you for your business venture, I just think somewhere not in a residential neighborhood would be better."
The group applauded loudly.
As the sun began to set, DiFazio made some final comments to the group.
"I would like to tell everybody that we are not here to fight with you. We are going to work with the civic associations within this neighborhoods as much as we can in order to get all of the information out about us, because eventually we're going to find a location that you're okay with and we are probably still going to have to come talk to you about these locations. I just want you to know that we aren't here to make everyone mad and piss people off," he said.
"Yes, I do have a right but I don't want to damage any neighborhoods."
No civic members at the meeting voiced support of the proposal. One man asked the team directly if they would make a public commitment to finding a different location.
"We're actively looking at other locations, but I'm not going to say we're going to move on from the space," said DiFazio. "I'm not going to lie to you. We wanted to take the opportunity tonight just to introduce who we are."
CNA's Stores Inc.'s proposal is set to go up for a vote at the Cedar Grove Civic Association next general membership meeting in October. Their vote will decide whether or not the civic association will publicly support the proposal. The Ashmont-Adams membership did not agree to put the proposal up to a vote. The next step would be for the CNA group to seek city approvals to open at the Gallivan location.