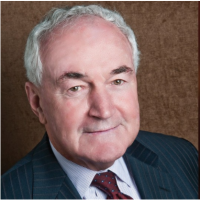 Joseph E. Corcoran, a Dorchester native, devoted philanthropist and developer who transformed the Columbia Point peninsula, died on Wed., June 3 at age 84 of heart failure.
According to his family, Mr. Corcoran died at his home surrounded by children and grandchildren.
Joe Corcoran grew up during the Great Depression in Dorchester, the youngest of eight children of Irish immigrants.
In 1973, he founded the real estate development company Corcoran Jennison, which would build $2.5 billion in properties nationally. He made it his mission to bring people from different incomes together and provide social services for those of humble means. He ignored naysayers who doubted that market rate renters would live with poorer people.
"I knew it would work because I lived it growing up," he said.
Corcoran Jennison earned a national reputation by transforming a Boston neighborhood now known as Harbor Point from a blighted housing project into a safe, vibrant mixed-income community that the residents are proud to call home.
Joe blazed the trail for mixed-income developments by helping to enact state legislation, chairing the real estate registration board, and founding a nonprofit to revitalize distressed urban neighborhoods.
"People don't grow up in poverty," he says, "they grow up in neighborhoods."
"Everyone looked out for each other, and that was my concept of what a neighborhood should be," he said.
Mr. Corcoran's obituary from the Dolan Funeral Home in Milton follows:
Joseph E. Corcoran passed away on June 3, 2020 peacefully in the company of his children, grandchildren, and great grandchild at his home in Milton. He was 84.
Since founding Corcoran Jennison in 1971, he built and managed 20,000+ housing units and thousands of acres of real estate, including housing, hospitality, office, retail and mixed-use projects in more than 15 states. A pioneer in advancing the concept of mixed-income housing and converting troubled public housing projects into successful communities, he led the partnership that transformed Dorchester's Columbia Point into Harbor Point, a community that became a national model for the federal government's HOPE VI program. In 1994, he founded The American City Coalition to advocate for innovation in urban revitalization. In addition to housing, Mr. Corcoran developed and owned Ocean Edge Resort and Golf Club on Cape Cod, and CJ Hospitality continues to manage the property.
A 1959 graduate of Boston College and former board member, Mr. Corcoran created the Joseph E. Corcoran Center for Real Estate and Urban Action at the Carroll School of Business at Boston College in 2014 to educate and inspire the next generation of professionals to use real estate as a catalyst for turning struggling neighborhoods into stable, flourishing communities. He is recognized for his abundant philanthropic pursuits and leadership positions with many organizations, including with the Boston Foundation, the YMCA of Greater Boston, Boston College, Boston College High School, the American Ireland Fund, the Board of Registration of Real Estate Brokers and Salesmen for the Commonwealth of Massachusetts, the Urban Land Institute, the Boys and Girls Clubs of Dorchester and St. Mary's Center for Women and Children in Dorchester. He was a US Army veteran of the Korean Era.
Joe was predeceased by his wife, the former Rosemarie Gildea of Dorchester and is survived by his sister Frances Richer of Milton. He is also survived by his children, Joseph J. Corcoran, and Gayle (Donovan) Corcoran of Milton; Suzanne Corcoran Early and Dennis J. Early of Alexandria, VA; Michael J. Corcoran and Linda (Donovan) Corcoran; Tricia (Corcoran) Chapple and Paul Chapple of Milton, MA; Kathryn Corcoran and Russell Deane of Quincy, MA; Sean Gildea Corcoran and his partner Alisa Kasmer of Los Angeles, CA; and Patrick Corcoran of Arlington, MA. Joe leaves 16 grandchildren; Rosemarie Corcoran; Jennifer Corcoran; Joseph Corcoran; Olivia Corcoran; Owen Corcoran Early; Cole Joseph Early; Mari Corcoran Egan; Kayla Corcoran; Michael Corcoran; Rachel Corcoran; Aiden Corcoran; Samantha Chapple; Nicola Chapple; Mickey Chapple; Kelly Chapple; and Charles Deane. He also has one great-grandchild, Alexis Egan.
Cause of death was congestive heart failure. Funeral services will be private.
Donations in lieu of flowers can be made to the Boys and Girls Clubs of Dorchester give.bgcdorchester.org or St. Mary's Center stmaryscenterma.org/donate-now
To send a sympathy message to Joe's family, please visit www.dolanfuneral.com
-Developing story-