By Daniel Sheehan, Reporter Staff
August 20, 2020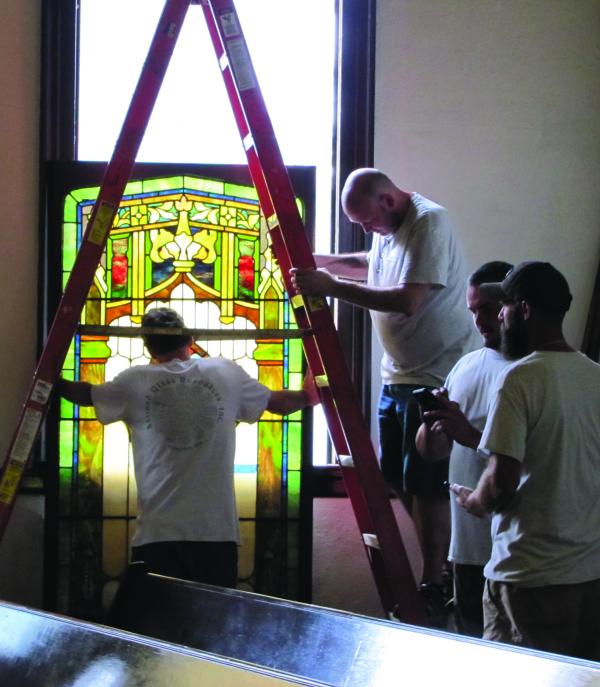 The first phase of a project that will restore the 113-year-old stained glass windows at Dorchester's First Baptist Church began last Monday as workers removed nine of the most deteriorated windows. The church, located on Ashmont Street at the intersection of Adams Street, is working with a $40,000 grant that it received from the George B. Henderson Foundation earlier his year to put toward the project.
The windows were taken to the Stained Glass Resources Co. studio in Hampden, Mass., where they will undergo four months of extensive restoration.
Karen MacNutt, chairman of the Board of Deacons for the church, explained that the age of the windows necessitated a preservation initiative.
"After about 100 years, the lead holding the sections of the windows becomes brittle and no longer supports the glass," she said. "This causes the windows to sag and buckle, and will, eventually, cause the stained glass to crack."
Once at the restoration studio, the position of each individual stained glass piece will be carefully noted and recorded before it is removed from its frame. Each piece will then be cleaned, repaired, waterproofed, and reinstalled in its frame where new lead will be used.
After this work is done, the should last another 100 years before again needing repairs.
"This first phase," MacNutt said, "will cost about $55,000. We hope to raise another $80,000 over the next five years to restore the remaining 15 windows in the sanctuary and the large window at the front of the building."
The First Baptist Church, organized by members of the Second Parish Church of Codman Square in 1837, was the sixth church to be established in what was then the town of Dorchester. Originally called the Neponset Village Meeting House, its members met at the Neponset Inn, which stood on the lot located behind the current-day Neponset Health Center.
The church's first building was located on Chickatawbut Street, near Bowman St. and, in 1907, the congregation moved to their present location.
For more information, visit the church's web site at fbcdorchester.com.