By Bill Forry, Editor
March 31, 2020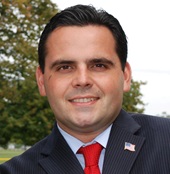 State lawmakers are moving towards consensus on emergency legislation that would protect Massachusetts homeowners and tenants who have suffered financial hardships directly related to the COVID-19 crisis from penalties and evictions— at least for the duration of the emergency.
Senator Nick Collins tells the Reporter that the Senate Ways & Means Committee has recommended passage of S. 2621, which would halt "non-essential evictions" for "non-payment of rent due to a financial impact from COVID-19; resulting from a foreclosure; or for cause that does not involve or include allegations of criminal activity or allegations of lease violations."
The bill is expected to come before the Senate for a vote as early as tomorrow. It would need to be approved by the House of Representatives and signed by the governor to go into effect.
"We are poised to pass this bill with the action taken today by the Senate Ways and Means Committee and the work of the leadership team and the Housing committee," said Sen. Collins. "It's a critical measure to bring relief to both mortgage holders and renters who have been impacted financially by COVID-19.
Tenant organizers and labor unions have called for swift action to prevent vulnerable tenants and homeowners from being penalized as they struggle with lost wages or unemployment caused by the unprecedented public health emergency.
Collins said that the Senate bill that advanced today is "prescriptive."
"The language says you need to articulate that you have been financially impacted. It's not for everybody. It's for those who have lost job or lost hours or their financial position has been impacted because, for instance, your day care shut down and you could not go to work," said Collins.
Still, if passed, the legislation would give broad protection to homeowners and tenants, not just those who are in federally-funded programs, like MassHousing.
"This is more of of blanket coverage for the state of Massachusetts," said Collins.
Provisions of the bill make clear, however, that the intent is to prevent evictions and foreclosures from being initiated or executed during the scope of the state of emergency. It does not include any language about debt forgiveness or "forbearance" measures. The Senate bill specifically says that the measure will not "relieve a tenant from the obligation to pay rent or restrict a landlord's ability to recover rent."
It would, if approved in its current form, prohibit late fees from being tacked on to payments as long as "the tenant provides notice and documentation to the landlord that the non-payment of rent was due to a financial impact from COVID-19."