By Chris Lisinski, State House News Service
February 6, 2020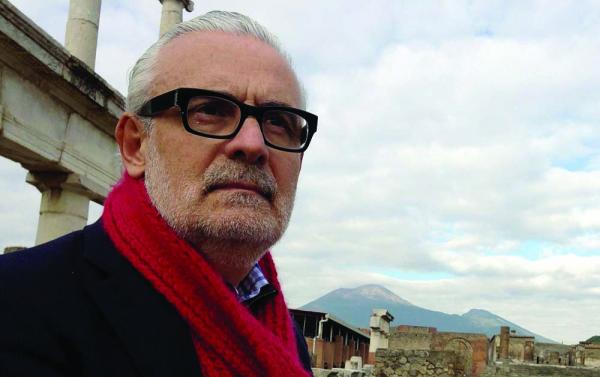 A search committee last week named Marcelo Suarez-Orozco, a dean at the University of California Los Angeles, as its lone finalist for the University of Massachusetts Boston chancellorship after months of searching and interviews with 11 potential candidates.
The 21-member committee voted unanimously to recommend Suarez-Orozco as the best fit for the job, describing him as a top-tier candidate who is dedicated to the school's urban mission.
Four potential finalists had been in the running, but three of them — including interim chancellor Katherine Newman — took themselves out of contention over the previous weekend, according to the UMass president's office. Norm Peters, the search committee's chair, said Suarez-Orozco was the only candidate who "truly rises to the top."
He added: "This candidate reflects a new day for UMass Boston and I feel wholeheartedly that he will be a transformational figure that can connect with every student, and not only every student, but with the dreams of every child that looks like a lot of people in this city and throughout the commonwealth that depend on UMass," committee member and former state Rep. Jeffrey Sanchez said during the meeting.
Suarez-Orozco participated in a campus visit at UMass Boston on Friday, where he met faculty, staff, and other community members. UMass President Marty Meehan now must make a recommendation to the system's Board of Trustees, which will vote on whether or not to hire Suarez-Orozco.
"We're all excited about his candidacy," Peters told reporters after the meeting. "Everybody, when he interviewed, was very enthusiastic. When you listen to me read his resume, it's unparalleled. He came from humble beginnings, speaks many languages, and I think he will be an asset not only to the university but also to the city of Boston and the state of Massachusetts."
Marcelo Suarez-Orozco, a dean at the University of California Los Angeles, visited the UMass Boston campus last Friday to speak to a small group of faculty, alumni and students. He is the lone finalist for the University of Massachusetts Boston chancellorship. Photo courtesy UMass Boston/Harry Brett

UMass Boston has not had a permanent chief since June 2017, when longtime Chancellor J. Keith Motley stepped down. Barry Mills served as interim chancellor for about a year, and then in May 2018 during the first attempt at a search, all three finalists withdrew after campus visits. Meehan described the collapse of the first search as "an unceremonious end," saying at the time that faculty council members were unhappy with the three finalists and raised questions about their qualifications.
Newman, who previously worked in the president's office as senior vice president for academic affairs, was tapped to take over as interim chancellor in the fallout and has held the position since that time.
Peters said the committee's decision to name only one finalist was not unprecedented. Previous searches for a UMass Lowell chancellor and for a UMass Medical School chancellor each ended with a single finalist, he said, and a committee once recommended six candidates for the UMass Dartmouth top post.
Despite the challenging 2018 search and the frequent financial headaches at the school, search committee members said they believe Suarez-Orozco is committed to the job.
"He is not only prepared, he is really looking forward to the challenge," said Jean Rhodes, a UMass Boston psychology professor who served as the search committee's vice chair. "He is approached, I'm certain, for all sorts of very elite institutions to have a leadership role, but he chose this. He chose this because he sees this as the only public research institute in Boston and he sees the city of Boston as one of the most important cities in the country and feels that we need a vigorous, very well-functioning public university here in Boston."
After immigrating from Argentina, Suarez-Orozco attended community college and the University of California at Berkeley.
His lengthy career in academia includes a tenured position at Harvard University, a university professor position at New York University, and eight years as a distinguished professor of education at UCLA. Since 2015, he has also served as the dean in UCLA's Graduate School of Education and Information Studies.
In a UMass press release last Tuesday, Suarez-Orozco said he is "deeply humbled and honored by this extraordinary opportunity. The University of Massachusetts Boston is a beacon of public education in the Commonwealth, in the country, and beyond. At a time when more is asked of higher education than in any previous generation in American history, the public research university faces extraordinary opportunities and real challenges moving forward.
He continued: "An ethic of social justice, a commitment to nurture the life-enhancing powers of education, and an unwavering devotion to excellence and equity shall guide my work if given the honor to serve as the next Chancellor of the University of Massachusetts Boston."
Suarez-Orozco's research has focused on mass migration, globalization and education, and the psychological effects of those trends.
Rhodes told reporters that she believes Suarez-Orozco's background and interests are an ideal fit for UMass Boston. About 54 percent of the school's Boston's enrollment was made up of students of color as of fall 2019, according to university statistics.
"The combination of skilled leadership and outstanding academic credentials makes him a very important candidate, as well as his particular story, of someone who came over as an immigrant from Argentina and studies immigration," Rhodes said. "He really speaks to the urban mission of our university and I think he'll speak to the communities and be an aspirational figure for the students who may attend the University of Massachusetts Boston."