By Maddie Kilgannon, Reporter Correspondent
April 1, 2021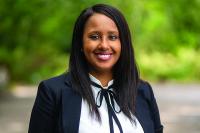 Carla Monteiro, a social worker and Dorchester native, announced her candidacy for at-large city council on Saturday afternoon at the Blarney Stone in Fields Corner. Monteiro, 38, described herself as a first-generation Cape Verdean, a single mom, and a fervently proud Bostonian.
"I feel that it is very important to have a social worker on the council who brings a holistic perspective, especially considering the pandemic and the climate that we're currently living in," she told the Reporter.
At Madison Park High School, Monteiro said, she struggled academically, but her inner drive eventually led her to earn three university degrees and a certificate in four years and become a social worker, all while raising her son.
She earned her master's in Social Work from Boston College in 2019 and now works at supporting patients who are struggling with their mental health and substance use and screening for social determinants of health at Boston Children's and Brigham and Women's hospitals.
"A lot of what drives me is growing up in Dorchester and just seeing a lot of the disparities," Monteiro said. "I chose to work in addiction because it has heavily impacted my community."
When growing up, she said, she dreamed of owning a home in the neighborhood that her mother could move into. During that time, she noted, she would put her son, who was born when she was 20, to bed and stay up late studying and researching, and it paid off.
In 2010, her dream became a reality when she bought a three-decker through the city's first-time home-buyers program.
"When I did have my son," she said, "people counted me out. It was this stigma about being a mom at such an early age. Being a single mom, I had to navigate the welfare system. I know what it's like to work a few overtime hours and have your daycare fees go up and your food stamps decrease," she said.
Buying a home changed the way her neighbors and community treated her, Monteiro said. Now she wants everyone to have that opportunity.
"There are all these gaps in services that impact the people of Boston. And if you haven't gone through it, then you may miss [them]," she said.
Monteiro said she chose to run at-large to represent the entire city because she looks at Boston on a macro level. "I didn't want to be limited in one district and not be able to help everybody," she said.
"I've always been like this unofficial social worker growing up," she said. "I just always found a way to bring resources to my neighbors and friends."
Candidates for council at-large are required to get a minimum of 1,500 certified signatures from city voters to make the ballot. Nomination papers will be made available on April 13.