By Katie Trojano, Reporter Staff
August 12, 2021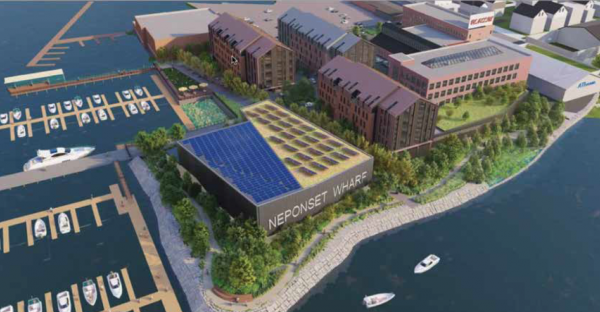 The latest version of a developer's proposal to build a new complex of residences and mixed-use buildings on the Port Norfolk waterfront got a fresh airing, and mixed reviews on Monday.
About 45 people tuned in to hear the South Boston-based developer City Point Capital's plans for 24 Ericsson St. during a virtual meeting hosted by the Boston Planning and Development Agency (BPDA).
During a Q&A session, while some attendees voiced support for the latest design, others sounded familiar themes, lamenting the project's size, insisting that flood protection plans are inadequate for the peninsula property, and laying out traffic safety issues.
The site is currently the MarineMax/Russo Marine facility next to Venezia restaurant and function hall.
Kevin Deabler, a principal at the Dorchester-based architectural firm RODE Architects Inc., gave a brief overview of the newest design, which takes into account feedback from a city panel focused on architecture. 
"A lot of the Boston Public Design Commission's comments dealt with how well the public could access the site and how they would get there. And those concerns kind of dovetailed into a lot of questions and comments that we got from the neighbors and community," said Deabler.  
"This site is a piece within a network of open space on Dorchester's waterfront and we want to work to make it a connector," he added, pointing north of the site to Tenean Beach, and south to Fishing Pier and Joseph Finnegan Park.
The newest plan would include "multiple buildings," 120 residential units in 3 complexes and approximately 23,400 square feet of office space; 11,000 square feet of community/office flex space; 3,600 square feet of retail;  community/office flex space; 3,600 square feet of retail space, a boathouse, and 159 on-site parking spaces. 
The team identified a few key elements as "design drivers," including sustainability measures to protect the neighborhood from climate change effects, improving neighborhood connections, creating a contextually responsive landscape and "develop[ing] a program that serves the community." 
Deabler said the team aims to achieve a passive house certification, which he called a "very aggressive sustainability measure that reaches a very low energy use threshold." 
Transportation and climate resiliency were the main focuses during the meeting.
"Those were the two items that we've gotten the most comments and questions about, so we wanted to shift the focus to that," said Quinlan Locke, project director at RISE Construction Management. 
Stephanie Kruel, a senior environmental planner at VHB, explained how the team would address climate resilience in their design, as the peninsula and much of Port Norfolk is already vulnerable to coastal flooding and stormwater inundation. 
"As sea level rises, the flood events are going to become more frequent and extensive," she said, "So we need to specifically design the site to be protected from the impacts of current and future flooding. This is accomplished through a combination of building elevation, flood proofing, and site grading." 
David Black, senior project manager at VHB, said the team would commit to completing a transportation study in partnership with Boston Transportation Department (BTD) prior to occupancy, in addition to defining a "slow streets" program, and conducting three community outreach sessions to gather input from Port Norfolk residents.
Attendees on the call offered mixed reviews during a Q&A session, with some voicing their support and others pointing to longstanding concerns. 
Mary McCarthy, a Port Norfolk resident and member of the project's Impact Advisory Committee (IAG), called the proposal's footprint "still too large for this area." 
Maria Lyons, a resident and member of the Neponset River Greenway Council, who has voiced concerns about climate resiliency and the potential for flooding over the years, echoed McCarthy's comments and said the proposal didn't go far enough.
"The relationship of this project in the area is way oversized and we've been saying that from the beginning. This area is one of critical environmental concern," said Lyons. 
"In terms of flooding I don't know how many times you can say this is not going to impact the neighborhood, but I disagree. At best it does nothing to protect the surrounding neighborhood from flooding," she added.
Ed Roche, a Port Norfolk resident and IAG member, suggested that a fire engine test run be made at the site. 
"We need to determine whether this has any bearing on the feasibility of this project, and it's a safety and liability issue. It's just good if we have really strong public safety standards," he said. "I like this project for the most part, although I still think it's a little too big."  
A handful of attendees voiced their support of the project, many of them union workers who cited the potential for jobs and an economic lift for the peninsula. 
At the last public hearing in April, the project was generally well-received by those who attended virtually.
Over almost four years, the proponents have transformed their plans for the 156,816 square-foot property — initially filed with the BPDA in 2017— after hearing resistance from some Port Norfolk residents who were mainly concerned by the project's potential traffic impacts, the absence of a plan to protect the area from coastal flooding, and too-tall buildings. 
An earlier iteration of plans, pitched in 2017, called for a total of 150 units, a 25-room boutique hotel, covered parking, some commercial space, and renovated boat storage and service facilities.
In 2018, the team's proposal included 185,150 square feet of construction spread across four buildings. 
The most up-to-date design would include a scaled-back total of 146,000 square feet. 
The developers have also revised their original designs to include roof shapes and building materials that would be more in step with the traditional architecture and industrial character of Port Norfolk. 
The BPDA, which facilitates the review of large projects and ultimately decides their fate through a vote of its board, has sought to kick-start private investment on the property. 
Interested parties can visit 24 Ericsson Street | Boston Planning & Development Agency (bostonplans.org) to view updates. They can also contact BPDA project manager Stephen Harvey at Stephen.j.Harvey@boston.gov.