By by Ally Jarmanning and Deborah Becker, WBUR
February 4, 2021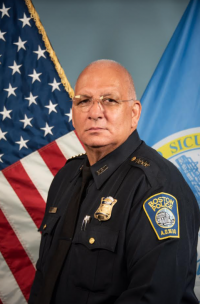 Boston's newly installed Police Commissioner Dennis White is now on leave after allegations of domestic violence surfaced.
The Boston Globe reported late Wednesday night that a judge in May 1999 issued a restraining order against White after he allegedly pushed and threatened to shoot his then-wife.
The Globe reported that there is no evidence White was charged with a crime. At the time, he denied the allegations in court filings.
Walsh named White to the post just a week ago, to replace outgoing commissioner William Gross starting Friday, and swore White in on Monday.
His office said in a statement Wednesday that after learning of the allegations, he placed White on administrative leave while an outside lawyer conducts an investigation.
"In an attempt to create a smooth transition and honor former Commissioner Gross's desire to spend time with his family, Dennis White was asked to quickly step into the role of police commissioner, beginning last Friday," Walsh said. "These disturbing issues were not known to me or my staff, but should have been at the forefront."
Superintendent-in-Chief Gregory Long will serve as acting commissioner, Walsh said.
Mayoral candidate and city councilor Annissa Essaibi George said Wednesday that she supports Walsh's call for an investigation.
White has spent 32 years with the department, and most recently was a superintendent and Gross' chief of staff. Walsh picked White to serve on his police reform task force last summer, charged with recommending reforms to increase transparency and accountability at the department.
Among the recommendations: an Office of Police Transparency and Accountability that would investigate officer misconduct and oversee internal police investigations.
This story was first published by WBUR 90.9FM on Thursday, Feb. 4. The Reporter and WBUR share content through a media partnership.