By Simón Rios, WBUR Reporter
July 15, 2021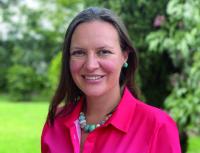 $8. It's one of the most mentioned statistics in Massachusetts politics.
A 2015 study recorded that the median net worth for white households in Greater Boston was a quarter of a million dollars, or $250,000. For Black families, their median net worth was put at $8.
Yet few people know the figure comes with important caveats — or the full story of how it became so well known.
It all started with a young economist from South America, Ana Patricia Muñoz, who worked at the Federal Reserve Bank of Boston for 10 years before returning to her native Ecuador. When she caught wind of researchers in other cities looking at racial wealth gaps, she wanted the Federal Reserve to do similar research here. But Muñoz said in an interview that her bosses were initially reluctant.
"I don't know if fear is the word, but apprehension of what could happen and, 'Is it really the Fed's role to do this?' " Muñoz told WBUR from Quito. "This was important enough that you have to risk it all to do it."
Muñoz eventually convinced her colleagues that the research fit the Fed's mission and got permission to go ahead with the work. Then, after she highlighted the figures in presentations, they grabbed the attention of many local activists.
Two years later, the $8 number went viral after it was reported in the Boston Globe's series on racism in the city
This year, it has become a key talking point in the Boston mayoral election. Nearly every major candidate regularly cites the study as evidence of systemic racism. And the report featured prominently in acting Mayor Kim Janey's campaign video.
But a closer look at the Fed study shows that the net worth of Black families in Greater Boston is more nuanced.
For one, it wasn't based on all Black households — but specifically on non-immigrant Black families. The same study also looked at several other ethnic groups and found Black Caribbean families had a median net worth of $12,000 — a number that is possibly within the margin of error of both groups.
Another caveat was the relatively small sample size. Researchers only surveyed 71 US Black families. That means the $8 estimate could actually be thousands of dollars higher —or lower.
Still, Prabal Chakrabarti, who heads community outreach efforts at the Boston Fed, said the study proved a key point: Black and Latino families in Greater Boston have far less wealth than white families. "We're very confident in the scale of the wealth gap, even with that sample size," he said.
Chakrabarti adds that there was an element of serendipity in coming up with a single-digit estimate. It helped make the statistic so sticky. "There's definitely some headline value in a figure like that, and that's why that figure got picked," he said.
But, Chakrabarti said, the underlying data, detailing assets and debts, were equally dramatic, underscoring the enormous divide.
The $8 estimate has galvanized local activists since the study came out. Segun Idowu, head of the Black Economic Council of Massachusetts, said the research led to an "emergency meeting" of 700 Black Bostonians in Dorchester. "The whole entire meeting was, 'We've got to do something about this,'" he said. "'This is a state of emergency and we need to talk about solutions.' "
And that meeting led to the creation of the Black Economic Council — to push Black entrepreneurship as one way to close the gap.
Tom Shapiro, a researcher on income inequality at Brandeis University who advised Muñoz at the time of the study, said he hopes researchers update the 2015 study. Without continual data, he said, it's difficult to identify policy goals and measure progress.
But several researchers said they doubt there has been significant improvement over the past six years. Indeed, Chakrabarti said he suspects the wealth gap has actually worsened since 2015 because of factors like skyrocketing real estate values and the disparate impacts of the pandemic.
And Shapiro doubted any small changes in the figure would be meaningful. "At the end of the day, it doesn't matter whether that figure is $8 or $800," Shapiro said. "It's still a massive gap."
The Boston Fed told WBUR it has no immediate plans to repeat the Color of Wealth study. Idowu, however, said the fact that the mayoral candidates are citing the $8 figure gives him hope — hope that closing the racial wealth gap will become a priority in the years to come.
This story was first published by WBUR 90.9FM on July 8. The Reporter and WBUR share content through a media partnership.