By Gintautas Dumcius, Managing Editor
May 2, 2023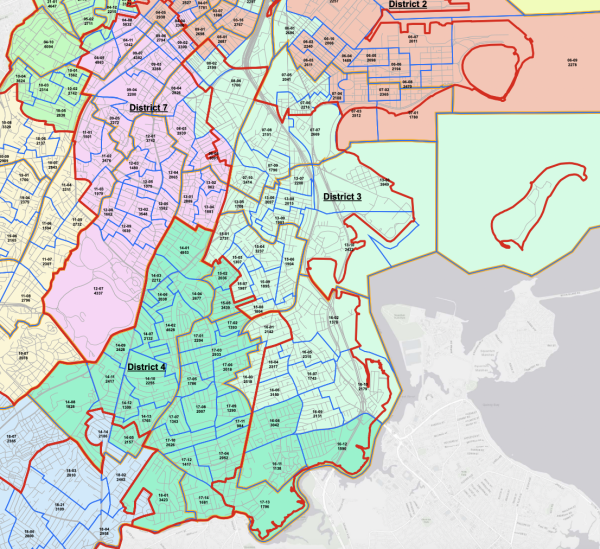 Since City Councillor Frank Baker's announcement two weeks ago that he won't be running for a seventh term inside City Hall, the field of District 3 candidates has begun to fill in.
Barry Lawton, who has run four times for the Fifth Suffolk House seat, has announced his campaign for the seat. "I want to get to work, I want to hit the streets, I want to be ubiquitous," he said in an interview, adding that District 3 needs a councillor "who walks the beat, so to speak, is supportive of businesses and all that stuff. Someone who really cares."
The 66-year-old Lawton has experience inside City Hall, where he worked as an aide to onetime Councillor Gareth Saunders. He has also taught school and was an aide to state Rep. Roy Bolling Jr. at the State House.
Lawton said he got to know Baker after the 2011 election, when Baker won the race to succeed retiring Councillor Maureen Feeney. Baker is "authentic," and he always returned a phone call, Lawton said. "Even through the raucous times of City Council, I'd be on the phone with him encouraging him to tone it down," Lawton added, referring to the rhetorical fights Baker has waged with fellow councillors.
His unsuccessful campaigns for the House seat in 1988, 1999, 2010, and, most recently, in 2014, set up a rematch of sorts this year with Jennifer Johnson, who announced her run earlier this year, before Baker's announcement. Johnson, a longtime Meetinghouse Hill activist, was a fellow House candidate in 2014 in a race won by the former prosecutor Evandro Carvalho.
Joel Richards, a Fields Corner pastor and schoolteacher, has been waging his campaign since launching his bid in December. He recently dropped literature highlighting his biography, his wife Madeligne, their two sons, and a pledge to campaign "without taking a dime of developer or corporate PAC money."
Patrick O'Brien, an Army veteran and former State House aide, is also a candidate, having jumped in after Baker's exit. Longtime political operative Jon Daigle is temporarily serving as his campaign chair as O'Brien gets up and running.
"After speaking with community leaders, family, and friends, I am confident that I will be a strong voice for the people of District 3," O'Brien said in a statement. "As a lifelong resident of Dorchester, veteran, and public servant, I know how important it is that all of our residents have access to our city's resources, and will work tirelessly to address their needs. Over the next few months I look forward to having conversations with residents on the critical issues we face and working hard to earn their vote."
Savin Hill's Matt Patton, an attorney and a field director in Elizabeth Warren's 2012 Senate run who continues to consider a run, this week announced a fundraising committee, with Keila Barros, who works at RISE Construction and is the sister-in-law of former city economic development chief John Barros, listed as its chair. Patton worked on John Barros' 2013 mayoral campaign.
"Many friends, neighbors, and community leaders have reached out these past few weeks urging me to run, and their encouragement has pushed me to seriously consider entering the race," Patton said in his own statement to the Reporter. "I'm hearing over and over how important issues like schools, safe streets, and affordable housing are to this community. And I believe our next city councillor must deal with them head on. These conversations in the coming days will inform my final decision."
Megan Costello, a longtime Marty Walsh aide who works as a senior adviser with the Boston Public Schools, said on Twitter that she plans to stay in her current role rather than mount a District 3 campaign. "I come from a family of educators. I know the power a good education can have on a child's life," she wrote. "I am proud of the momentum we're building at BPS."
She said she could have more impact within the school system while noting that the City Council has become "defined by the political divisiveness we've watched trickle down from a national conversation void of decorum." That dynamic, she said, "harms democracy and discourages good people with good faith from public services, for fear of the vitriol and toxicity — not just from the voters, but from their own colleagues."
BPD officer considers District 5 campaign
A longtime Boston Police officer is weighing a run in the Council's District 5, which includes Hyde Park and part of Mattapan. Jose Ruiz, a Hyde Park resident who currently works as the chief of public safety for the Boston Public Health Commission, told the Reporter that he has served in the police force since 1994.
He came to Boston from Puerto Rico as a toddler, and grew up in the South End, where his mother, Paula Oyola, helped found the affordable housing development known as Villa Victoria. Ruiz moved to Hyde Park in 1997.
He said that he helped found the Latino Law Enforcement Group of Boston (LLEGO), an advocacy group that has been in operation since 2017. Before joining the BPD, he worked in the city's parks department for six years.
"I've always had two passions: politics and community organizing," Ruiz said. "I'm a police officer; I tell people I do that part-time and I community-organize full-time."
He has been active in local politics, donating to Marty Walsh when he was mayor, and to City Councillor At-Large Erin Murphy, state Rep. Rob Consalvo, and Felix G. Arroyo when he was an at-large councillor.
Arroyo's brother Ricardo has been the councillor in District 5 since 2019. An attorney who has worked as a public defender for the Committee for Public Counsel Services, he also lives in Hyde Park. He unsuccessfully ran for Suffolk district attorney in 2022.
"I think races are good for democracy," Arroyo said. "If folks are thinking about running, they should."
The chair of the Council's Government Operations Committee, Arroyo said that as he gears up for another Council run, his office is working on an ordinance that would cut down on food waste whereby supermarkets, some grocery stores, food service providers and distributors, wholesale vendors, hotels and large restaurants, among others, would be required to separate and donate excess edible food that would otherwise get thrown away.
Low-income, single-parent Black and Hispanic households see higher rates of food insecurity, according to the ordinance filed by Arroyo and District 1 Councillor Gabriella Coletta.
"We're going to continue to push to make Boston a more equitable city moving forward," Arroyo said.
Another candidate may be in the mix: Jean-Claude Sanon, a Mattapan resident who has made multiple runs in District 5, has applied to pull papers for a potential campaign. Nomination papers became available on Tuesday this week, with candidates for the nine district seats needing 200 signatures from registered voters to get on the ballot.
The preliminary election is set for Sept. 12 and the final election will take place on Nov. 7.