By Ed Forry, Associate Publisher
June 1, 2023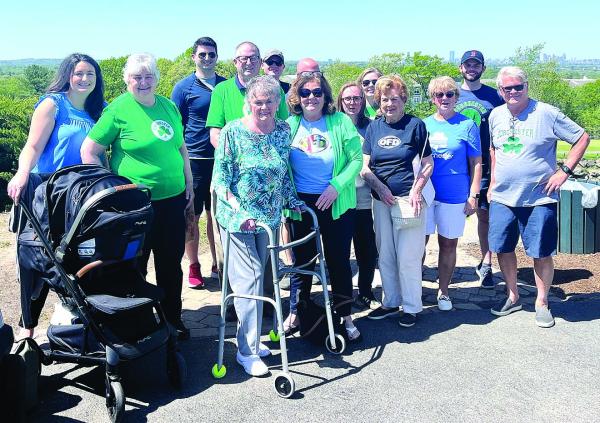 Last month, Ellen Gilmore sent a message to our newsroom: "My mother, Elaine Gilmore, who will be celebrating a big birthday, decided that she wanted to give her grandchildren a tour of important places in Dorchester along with her narration as her gift to them.
"Both of my parents grew up in Dorchester and moved to Canton as their family was expanding," said Ellen. "My family has always had a very strong connection to Dorchester and she wants that to continue. Before my father died, he wrote his memoirs and called it "A Kid from Dorchester," with a limited number of copies printed and bound.
"As a result of my mother's request, this Saturday her children and grandchildren will be in a rented bus driving through parts of Dorchester, with her narrating different places of importance to both our family and the city. She is also providing gift bags for everyone that include a Dorchester t-shirt and turtles from Phillips Candy House!"
In a follow-up message, Ellen wrote: "Our Discovering Dorchester tour!  A fun time was had by all."
I met with Elaine Gilmore and some of her family that Saturday, and later she and I spoke by phone. Here's an abridged report on our conversation:
Reporter: What was your motivation for bringing the family to Dorchester last week?
Elaine: Well, we had talked about it, my husband and I, because while we were bringing up the children in Canton, we would be telling them stories about Dorchester. And we wanted them to see the places that we were talking about and why we were talking about them. Of course, it is different now. In our time in Dorchester, we didn't have cell phones, you know, and there were so many different ways of living. We wanted to show them that, and they thoroughly enjoyed it. They had the best time. They really did.
Reporter: What were some of the areas on your excursion?
Elaine: We had a gift bag with a variety of Dorchester t-shirts, from Dorchester Apparel. We also went to Phillips. We did all this in preparatory of the day. I had Phillips turtles for them. And I had read that Dorchester had the first playing cards – they didn't have any numbers on them, they just had the figures, King, Queen, Jack, etc. So we gave them each a pack of playing cards in their bag.
We took the tour in a 15-passenger van and started up around Phillips Candy House. From there we worked our way toward Fields Corner. We first drove around St. Ambrose area and Town Field, where my husband was from, and then we headed to the Adams library area where we lived with our kids for many years, then onto St. Brendan's and Gallivan Boulevard, where I was raised.
Our final stop was Cedar Grove Cemetery. In addition to the local importance of Civil War veterans buried there and the trolleys running through it, many members of our family are there, including my husband and grandson, my parents, grandparents, and even my great-grandparents.
For many years we would attend the Memorial Day parade and I especially enjoyed their speakers at the event.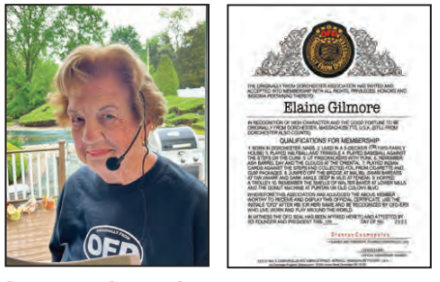 Above, Elaine is shown with her microphone and headset; along with her personalized OFD certificate
Reporter: How long did the ride take, and any highlights?
Elaine: It took us a good hour and a half. We had the site of the first Howard Johnson's on Morrissey on the list, and we didn't get there, but that was definitely something that we talked about.
One of the highlights was Walter Baker's Chocolate. Just going outside our house on Gallivan Blvd, at times we could smell chocolate coming from Lower Mills . And I did mention, and I don't know whether this is true or not: When Walter Baker Chocolate moved down south, they found that the chocolate wasn't like it was when they were making it up here. What I had heard was the water. So, they had to send for Dorchester water to make the taste the same! I have never confirmed that story.
Reporter: Tell me about your dad, Dr Leo Fogel, DMD?
Elaine: My dad was a dentist, and he grew up in Dorchester. His father built houses in that area off Gallivan Blvd. My father helped my grandfather in building some homes on Milton Street, Lenoxdale Ave. and Myrtlebank Ave. summers while he was attending Tufts Dental School.   His first office was in a building in Fields Corner,  then when we moved to Gallivan Blvd., he used the front three rooms for his office and waiting rooms.
We had a car, a Plymouth, and of course, only one car. After I got my license, my job every night was to drive the car down to my grandparents' house, on the corner of Milton and Lenoxdale. Theirs was the only house around that I can remember that had a two-car garage Most of them didn't have any garages at all. But that was because my grandfather, Henry Fogel, built it. So I had to do that. Then in the morning, I would go down and get the car out of the garage and bring it back to Gallivan Boulevard.
Reporter: Do you recall what was located where the McDonald's is now at the corner of Granite Ave.
Elaine: Let me think about that. Yes, yes, I do. It was The Purple Cow [a drive-up eatery). And that name was from Gelett Burgess's poem: 'I never saw a purple cow, I never hope to see one. But I could tell you anyhow, I'd rather see than be one.'
Reporter: Do you remember the ballroom in Neponset Circle?
Elaine: Yes. I do. It was the Riverview, it was a skating rink and a ballroom. My first date with my husband was a blind date to go dancing at Riverview.   He did not have his '47 Ford yet so we had to walk from my house (near the Supreme Market) to Riverview. I had heels on, I wouldn't want to do it today. 
Reporter: Your husband Ed was from St Ambrose parish in Fields Corner, and served in the Navy?
Elaine: Yes, and he took good advantage of his time in the service. He went to Boston College on the GI bill, and then we bought a house with a VA mortgage on Delmont Street, right beside the Adams Library. My three children went to the Kenny School, which was right across from us on Delmont Street and then to St. Brendan's. The girls grew up in Dorchester and then we all moved to Canton.
Reporter: How many grandchildren joined you for the tour?
Elaine: We have seven grandchildren, but they weren't all able to make it. Included were only three: Paul, Beth, and Molly. One of the others was in Italy, another in Toronto. And one of them had passed away in an automobile accident. He's the one buried in Cedar Grove. Also, my granddaughter Katherine had just had a baby three weeks old, so she couldn't make it.
Reporter: What was the reaction of the three who were with you?
Elaine: Oh, they loved it. They loved it. And one of them had a friend with her and he reported to his parents when he went back. But they asked him, did you have a good time? And he said, 'Can you imagine the grandmother had earphones on and the microphone.'

A view in the van of some of the family members. Photos courtesy of Ellen Gilmore
Reporter: Did any of the grandkids ever live here in Dot?
Elaine: I've never seen such a generation that travels so much. My gosh. They're here, there, and everywhere. But they're all grown up and they're graduated from college and, you know, working and all that kind of thing. And no, they didn't come back to live in Dorchester. So that's why I was bringing them back there.
Reporter: There you go. Bringing them back to their roots,
Elaine: Right. And you know that this would be the second time we would be back, because the first time my husband had contacted you, we had a big OFD party in Canton that was for everybody. One person had an OFD flag that we had on our house.   We did Dorchester Trivia, hired an accordion player, and our very good friends from Southie picketed the house, parading with placards saying   "Unfair To Southie." After a while we relented laughingly and let them in!!!!!!
Reporter: You have a lot of knowledge about your old neighborhood.
Elaine: I did a lot of research on it. I learned a lot more about Dorchester than I ever knew, and I really appreciate growing up in Dorchester. I'm a Dorchester person.
Both my husband and I worked full-time at the Post Office, in the South Postal Annex. When he was in college, he worked full time on the night shift. I worked during breaks while at Emmanuel College. Both of us had to learn the "scheme" – that was all the streets for each route in Dorchester!
Reporter: Yes, I worked for the Post Office too, back in the day, and became familiar with many streets all across Dorchester.
Elaine: Yeah. You know, I think we talked long enough. I think we're going to find out we're related!