The doors of the Curley Community Center on Columbia Road in South Boston swung open to the public last Friday (June 9) for the first time in more than three years, welcoming residents eager to get their first look at the renovated beachfront amenity that has been completely modernized at a cost of $31.2 million.
The facility will not be open for members to use until Thursday of this week, but Friday's open house featured tours led by staff members from the Boston Centers for Youth and Families (BCYF). Boston residents can use the facility for free through September. After that, members must pay an annual fee that has not yet been set, according to city officials.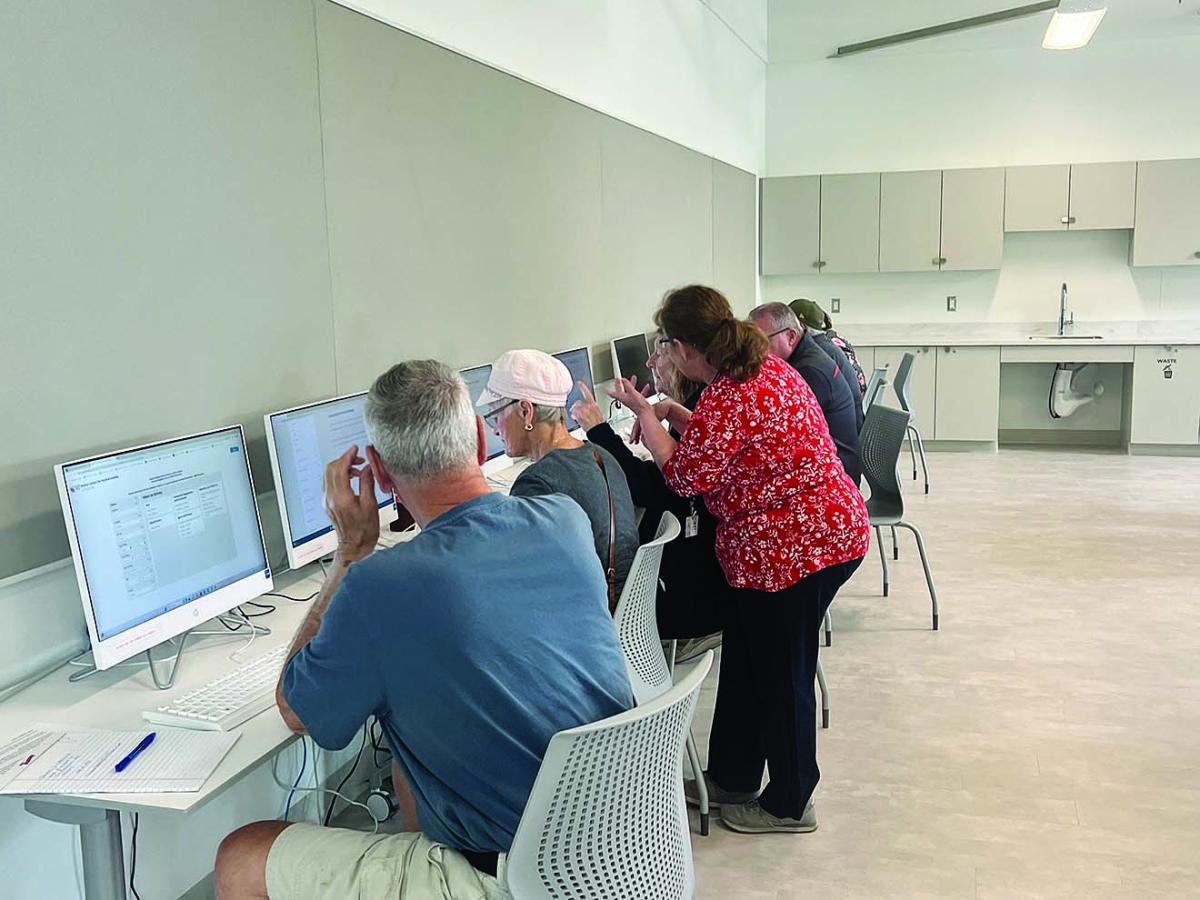 Tourists check out the computer room at the renovated Curley Community Center last Friday.  
Bill Forry photos
The beach along L Street, as the facility is often called, remains closed to the public through at least August. While members can sit outside on benches, fencing has been installed to protect birds known as piping plovers, which started nesting in the sand during the three-year period when the building was closed for construction. Because the species is considered a "threatened" population, city officials are waiting on state-level permits needed to reopen the facility, which first opened in 1931 as a bathhouse named for many-termed Boston Mayor James Michael Curley.
The most recent overhaul includes a fitness studio, a yoga and dance studio, space set aside for children, steam and sauna areas for men and women, separate areas for teens and seniors, a strength training area, and multi-purposes offices.
New windows that include airy, two-story skylights in the building's three main lobby areas have transformed the bunker-like old bathhouse into a bright and open space with spectacular views of Dorchester Bay, the JFK Library, and the Harbor Islands.
Edward McGuire, director of the Mayor's Office of Neighborhood Services, and José Masso, the city's Chief of Human Services, were on hand on Friday to walk visitors through the facility, along with other BCYF staff. McGuire, a South Boston resident, emphasized that although the facility is located in Southie, it's a citywide asset that welcomes Bostonians from all 23 neighborhoods.
"We wanted to give people an opportunity to walk through the facility and check it out," McGuire said. "It's definitely drastically different from what it previously was. In the old building it was obviously, you know, segregated by sex. You couldn't walk continuously from one end to the other. And if it's your first time here, it's a little overwhelming. So, we thought that it would probably be best to just get people the opportunity to walk through because they've been looking at it for the last three years from the outside."
Masso said that the open house was also something of a celebration for residents.
"Folks have been waiting for this space, so to welcome people in at this moment in time in which they're able to see it for the first time and, and it takes everybody's breath away… It's been transformational. So, we want people to get a chance to not only get acclimated, but also to be able to celebrate."
One of the residents on hand for a first-look was Claire Lyons, who was accompanied by her granddaughter Madden, who will work with kids at the center this summer.
Lyons, a retired nurse who works with seniors to keep their blood pressure monitored, called the renovated building "a dream come true." Not having access to the Curley for three-plus years has "been tough," she said.
"I'm working in senior housing doing blood pressure checks now and there's a woman in one of my buildings that's an actual L Street Brownie and she still swims. She cannot wait to get back in here. There's such a community here."
As for the finished project, Lyons said: "Oh, it's a hundred times more than I could ever have imagined."
The fitness center will offer instructor-led classes starting on June 20. There are facilities and dedicated rooms for children and teens inside, but it is not a "drop-off" facility. Parents and guardians must accompany minors.
For more info, see Boston.gov/BCYF-Curley.