City plans to build warehouse on key Uphams Corner parcel
By Bill Forry
Jul. 26, 2013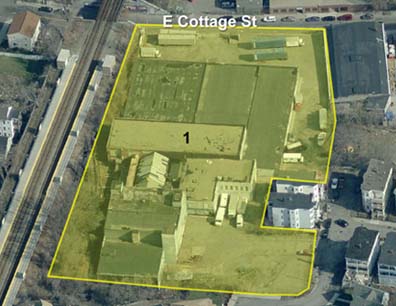 A newly-minted city of Boston plan to store street poles and bucket trucks on a three-acre property near Uphams Corner is coming under fire from some stakeholders, who say that the city-owned site next to the Fairmount commuter rail line should be used for housing instead.
The 120,000 square foot Maxwell site, dominated by a sprawling, empty cardboard box warehouse, was seized by the city of Boston more than two years ago after its former owner lost the land to foreclosure. The existing warehouse on East Cottage Street is in dilapidated condition and must be torn down to accommodate whatever use comes next.
Nearby residents— including members of a mayorally-appointed advisory group— have named it their number one target for redevelopment, in part, because of its proximity to the Uphams Corner station on the Fairmount Line. Until this week, that seemed likely to be the future for the Maxwell property.
The city's Chief of Basic Services, Michael Galvin, says that the city's decision was triggered by an urgent need to relocate its pole storage and truck fleet from its current makeshift home on MBTA-owned land next to Arborway station in Jamaica Plain. The MBTA, Galvin says, wants the city off its land by next April.
"I've known about this for about six months and I've gone out with [the Department of Neighborhood Development] and walked properties that we could purchase or that we own," said Galvin, who says that the yard must be able to accommodate as many as 27 trucks and a stockpile of replacement poles. The Maxwell property, Galvin says, is the only feasible option in the city's real estate portfolio.
"It's in an industrial area. I had my folks put together a rendition of what we'd need for the pole yard and how it would lay out," said Galvin. "I have the wherewithal to design it," he said, adding that construction would start next summer "once capital budgets are approved." A temporary home for the street pole division will need to be found in the interim, he said.
Joan Tighe, a member of the Uphams Corner Fairmount Working Advisory Group (WAG)— whose members were appointed last year by Mayor Menino to help prioritize development along the Fairmount corridor— said the group just learned of the city's plan for the Maxwell site at a meeting on Wednesday. She called the city's decision to use the site for its pole division "outrageous."
"The WAG has identified five priority projects with our consultants and Maxwell is the top one," says Tighe, who lives in close proximity to the property and runs the Eastman-Elder Neighborhood Association. "We felt it best meets the goal of economic development to have it re-developed with light industrial, along with new housing that would back up behind the Groom-Humphrey community that is there."
"This was a feasible plan that could work," Tighe said.
Tighe says that putting a permanent city of Boston street light warehouse on the property is "totally contradictory" to what local stakeholders want.
"It's very bad," she said. "It is a totally passive use, it brings nothing of benefit to neighborhood. It undercuts the integrity of the entire Fairmount-Indigo planning process."
Tighe says that the WAG members are drafting a letter that will call on Mayor Menino to intercede and stop the plan from moving forward.
"We're asking for a meeting with the mayor and his team next week," said Tighe.
A report commissioned by the Uphams Corner Fairmount WAG — and presented in April— identified the Maxwell site as ideal for new affordable housing, which could be facilitated by its designation as a "transit oriented development" project. A pair of redevelopment scenarios outlined by consultants from The Cecil Group outlined a series of new buildings on the site, one of which could have housed as many as 190 units of housing.
The property has been in distress well before the city of Boston ultimately seized control in 2010. Prior to the foreclosure, Maxwell Box Company was embroiled in a protracted dispute with the Department of Labor and the city of Boston— which considered the company its single biggest tax debtor for many years.