Martin Richard laid to rest in private service
By Bill Forry
Apr. 23, 2013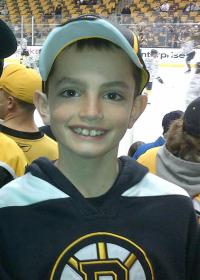 Eight year-old Martin Richard, who was killed in last week's bomb attack at the Boston Marathon, has been laid to rest in a private ceremony, according to a statement issued by the family today.
"The outpouring of love and support over the last week has been tremendous," Denise and Bill Richard said. "This has been the most difficult week of our lives and we appreciate that our friends and family have given us space to grieve and heal.
"A private Funeral Mass was celebrated this morning with immediate family. We laid our son Martin to rest, and he is now at peace. We plan to have a public memorial service in the coming weeks to allow friends and loved ones from our community to join us for a celebration of Martin's life."
Martin, a third grader at the Neighborhood House Charter School, is being mourned across the nation and the world. His sister, 7 year-old Jane Richard, remains hospitalized at this hour. Jane was also caught in the second of two coordinated bomb blasts outside the Forum restaurant on Boylston Street. Their mother, Denise Richard, was also injured in the explosion, but not as seriously. The family— including an older brother, Henry, and father Bill Richard, were watching the marathon near the finish line when the attack —allegedly perpetrated by two Cambridge brothers — began.
Friends and neighbors have set up a fund that will aid the Richard family with their expenses related to the attack and their medical care. As of today, the fund has collected more than $208,000 — and that total does not include checks that have been dropped off to St. Mark's Area Main Street, which is the fiscal agent for the fund. Bill Richard served as the president of the volunteer board of the Main Street organization until recently.
Tags: