$3 million facelift is on tap for Uphams Corner
By
Dave Eisenstadter, Special to the Reporter
May. 1, 2014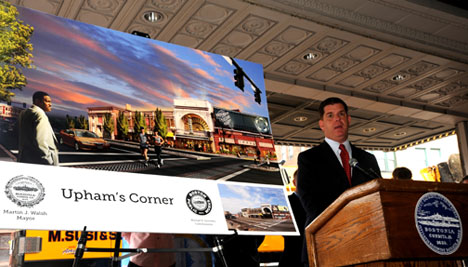 Uphams Corner will be the site of more than $3 million in roadway improvements in the coming months. Mayor Martin Walsh spoke to reporters and community members Monday morning under the marquee of the Strand Theater on Columbia Road.
"Today is a celebration, a celebration of a great neighborhood that's about to get even better," Walsh told the dozens of assembled residents and journalists. "We're investing in Uphams Corner like never before and it is well deserved."
The improvements will consist of light fixtures, crosswalks, a median strip, a bus shelter, landscaping, signage, and improved sidewalks, Walsh said.
Interim Boston Public Works Commissioner Michael Dennehy compared the $3.1 million project to improvements that were made to Edward Everett Square completed in June 2007.
Dennehy said some construction had already taken place. For Walsh, who grew up near the Strand Theatre and Uphams Corner, the neighborhood is a part of Boston's history, an educational hub, and a gathering place for community.
The streetscape improvements, along with historic building revitalizations, arts investment, the redevelopment of the former St. Kevin's campus, and the work of neighborhood groups like Uphams Corner Main Street, would help to unleash the full potential of the neighborhood, Walsh said.
At the same time, the Mayor stressed that the ongoing improvements would not be the cause of displacements of people who currently live and work in Uphams Corner.
"As this community continues to thrive, residents and business owners here now will not be displaced," Walsh said. "Many of them have fought long and hard for these investments and I want them to know we will remain their ally as we move forward."
One such business owner is Greg Colon, owner of the Paraiso Restaurant at 750 Dudley St. Colon thanked the Mayor and other community partners for their work in the neighborhood.
Colon had particular praise for Uphams Corner Main Street, which helped his business by helping to pay for a new sign and with planting flowers at the restaurant's outdoor patio.
"This sign has made our restaurant more inviting and welcoming," Colon said.
Evandro Carvalho, the Fifth Suffolk district Democratic nominee for state representative, also thanked Walsh for his work in the community.
After the prepared remarks, Walsh and others unveiled a sign that said "Welcome to Upham's Corner," which will soon be placed in the square.
Fields Corner Main Street Interim Director Rosanne Foley was among the residents in the crowd and was enthusiastic about the project.
"It's exciting to see so many pieces falling into place," Foley said. "We need more of this all over."
Tags: