By Katie Trojano & Daniel Sheehan, Reporter Staff
October 30, 2019
A look at who's on the at-large City Council ticket
Eight candidates competing for four at-large seats on the Boston City Council will encourage constituents to vote in the polls tomorrow, Nov. 5. Here's a look at the candidates, shown in the order of how they will appear on Tuesday's ballot. Voters can choose up to four at-large candidates. Polls will be open from 7 a.m. until 8 p.m.
Michael Flaherty: Incumbent


Incumbent at-large City Councillor Michael Flaherty finished third in last month's preliminary election, earning just under 14 percent of the overall vote behind second-place finisher Annissa Essaibi-George.
Flaherty was born and raised in Boston. He was first elected to the Boston City Council in 1999. In 2009, he unsuccessfully challenged former Mayor Thomas Menino, who had been in office for 16 years. He returned to the Boston City Council in an at-large seat in 2013.
Flaherty has received endorsements from 21 elected officials including Mayor Walsh, 34 unions, Planned Parenthood, The Environmental League of Massachusetts, and The Boston Globe. Flaherty has also been endorsed by Congressman Stephen Lynch, Suffolk County Sheriff Steve Tompkins, several members of Boston's delegation at the Massachusetts State House, and the Ward 5, 9, 15 and 17 Democratic Committees.
Alejandra St. Guillen


Growing up in Boston in the 1970s and 80s, raised by a Canadian mother and Venezuelan father, Alejandra St. Guillen recalls a time when her neighborhood was racially and economically diverse and her family was paying affordable rent and had easy access to transportation. St. Guillen has served as the Executive Director of ¿Oiste?, a Latino civic and political organization that promoted economic justice and electoral reform initiatives directly impacting communities of color statewide.
St. Guillen has been endorsed by Mayor Martin Walsh, Congresswoman Ayanna Pressley, Ward 4 Democratic Committee, Councillor Michelle Wu, city union SEIU 1199, the Greater Boston Labor Council, Ward 17 and 15's Democrats, State Reps. Liz Miranda and Dan Cullinane, UNITE HERE Local 26, SEIU 32BJ District 615, and Right to the City VOTE.
Michelle Wu: Incumbent


City Councillor at-large Michelle Wu, in a replay of 2017, dominated the voting in September's preliminary election, topping the ticket with 19 percent of votes cast for a strong field of 15 candidates and finishing well ahead of fellow incumbents Annissa Essaibi-George and Michael Flaherty, who each earned just under 14 percent.
Wu has received endorsements from Congresswoman Ayanna Pressely, Attorney General Maura Healey, Teamsters Local 25, Wards 4 and 15 Democratic Committees, the Boston Teachers Union, the Greater Boston Labor Council, MA Womens' Political Caucus, Healthcare workers with 1199SEIU state and an assortment of elected officials.
Julia Mejia


Julia Mejia is a first-time candidate and Dorchester resident who has worked as a producer at MTV and founded two civic organizations in Boston. Her family moved to Boston from the Dominican Republic when she was five years old. She's an Afro-Carribean Latina and single parent who says she wants to help empower everyone to advocate for their families and communities. Mejia, who describes herself as "the last community organizer/activist standing in the race," names campaign finance reform and civic engagement as two core pursuits of her campaign.
Mejia received endorsements from former at-large hopefuls Priscilla Flint-Banks, William King, Domingos DaRosa, and Michel Denis. She's also been endorsed by Congresswoman Ayanna Pressley, Wards 4 and 15 Democratic Committee,former Boston City Councillor and mayoral candidate Tito Jackson.
Erin Murphy


First-time candidate Erin Murphy says her "independence" and focus on local issues is what sets her apart from the field of eight finalists in the at-large Boston City Council election set for Nov. 5.The Dorchester native and longtime Boston Public School teacher finished in 7th place in last month's preliminary election with 6.84 percent of the overall vote.
Murphy has been endorsed by State Representative Dan Hunt, former at-large candidate Jeff Ross, Ward 17 Democratic Committee, as well as the Boston Police Patrolmen's Association. She's also received endorsements from a number of trade unions, including the Boston Building Trades Council, Bricklayers Local 3, IBEW Local 103, Local 2222, Ironworkers Local 7, Laborers Locals 223, and Pipefitters Local 537.
Althea Garrison: Incumbent


In an increasingly left-leaning city, Althea Garrison describes herself and her base of voters as "moderate to conservative." Although she has identified as a Democrat in the past, Garrison, who, as runner-up in the at-large election in 2017, moved onto the council early this year when US Rep. Ayanna Pressley left a vacancy on the council. Garrison said in an interview that she believes her views align more closely with Republican values. Garrison finished in 6th place in the preliminaries. She's been endorsed by Boston Firefighters Local 718.
David Halbert


David Halbert is a first-time candidate, a Cincinnati native and son of career federal employees. After living in East Boston for several years, he moved with his family to Dorchester last year. A self-described "policy guy" with "government service in my blood," he has previously worked for two Boston city councillors and former governor Deval Patrick. Halbert named the affordable housing crisis and transit equity as two issues atop his list of priorities. If elected, he would become the first black man directly elected to the city council since Bruce Bolling in 1981, addressing what he called "a glaring need" for representation.
Halbert has been endorsed by The Boston Globe, the Ward 15 (Dorchester) Democratic Committee, Bay State Stonewall Democrats, 350 Mass Action, and former at-large city council candidates Michel Denis and William King.
Annissa Essaibi-George: Incumbent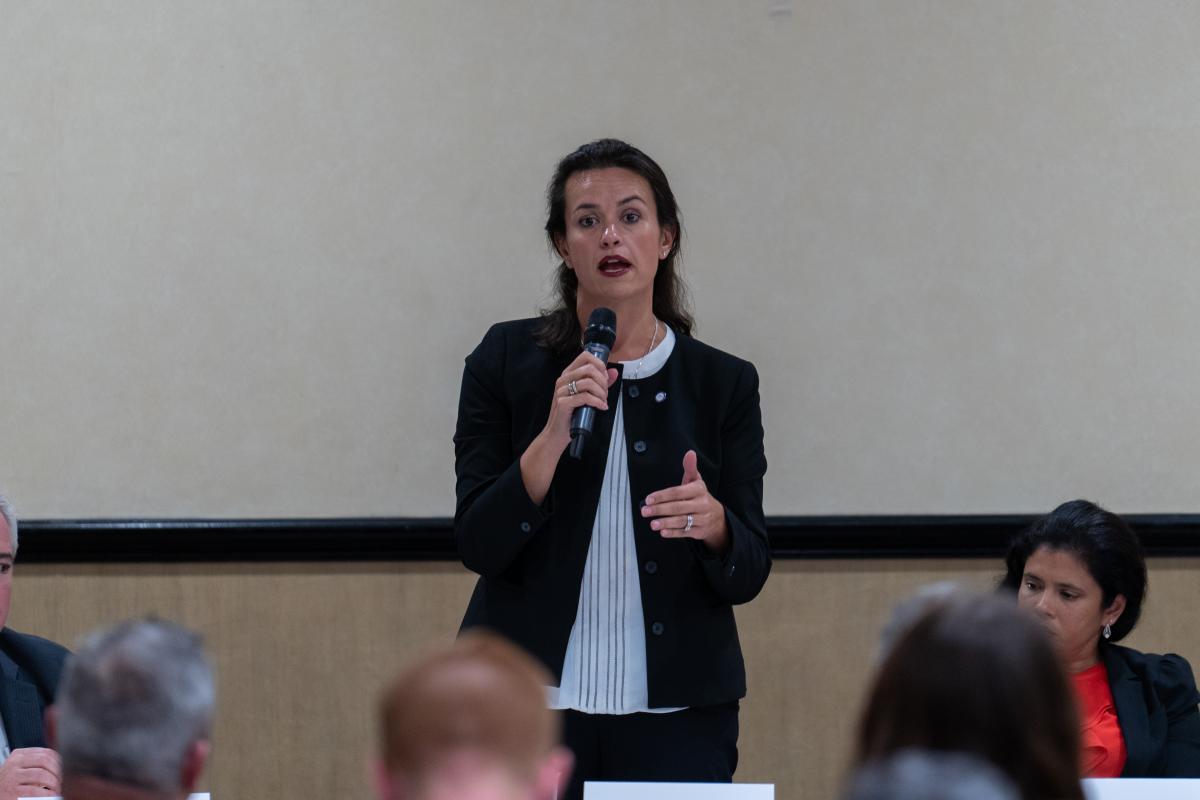 In last month's preliminary city council election, incumbent at-large City Councillor Annissa Essaibi-George enjoyed consistent support citywide as she secured a strong second place finish. Essaibi-George was born and raised in Dorchester and attended Boston Tech – now the John D. O'Bryant High School – in Roxbury before going on to teach and coach softball at East Boston High School for 13 years. She is also an entrepreneur who launched her own successful sewing store, The Stitch House on Dorchester Avenue, in 2007. Education and family homelessness are two core issues that Essaibi-George has worked on as a city councillor.
Essaibi-George has received endorsements from Mayor Martin Walsh, Attorney General Maura Healy, Congresswoman Ayanna Pressley, The Boston Teachers Union, Teamsters Local 25, State Representative Dan Hunt, Healthcare workers with 1199SEIU, Ward 17 & 15 Democratic Committee among others.
For more coverage come election night, monitor DotNews.com and the Reporter's twitter feed @dotnews.