By Daniel Sheehan
March 15, 2019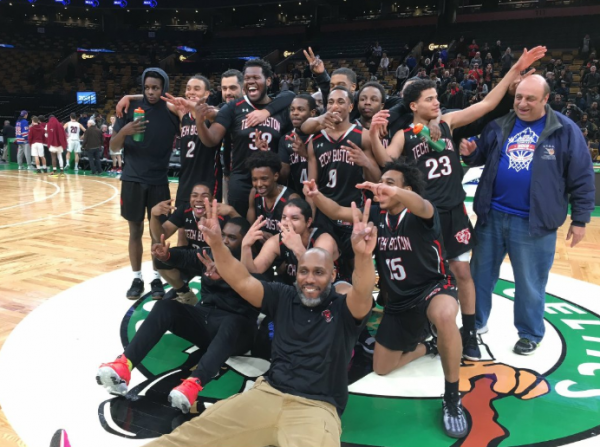 Last year, the TechBoston boys basketball team made history, routing Taconic High School 78-40 to bring home the school's first ever Division II state title. On Saturday, history repeated itself.
After defeating Belmont 61-53 in the semifinals on Wednesday at TD Garden, the Bears took on Taconic in the finals once again Saturday afternoon at Worcester Polytech and secured their second ring in two years, winning 69-54.
Last year's Bears squad was led by a talented group of seniors, including key scorers Walter Dew-Hollis and Shamar Moore. But this year, players have stepped up to fill their shoes. Junior guard Shamar Browder (16 points) and senior Alan Nunez (15 points, 5 steals) led the way Saturday in a game where the Bears' defensive pressure forced Taconic to turn the ball over 22 times. Previously, Browder posted a game high 30 points in Wednesday's semifinal win, leading the Bears to victory on the Garden's parquet floors, an experience last year's team was denied after a snowstorm forced the game to different venue. That was part of what made the past week "extra special," said Williams.
"What made it extra special was that we weren't expected to do it this year," he explained. "We lost so much [talent]. If you look at the preseason polls, a couple of them put us in the top 25, I think we were maybe 24 in one. They didn't expect us to do much, they thought it was a one time thing."
But Williams isn't interested in one time victories. He's looking to establish the roots of long term, continued success at TechBoston. And now, with two consecutive state titles under his belt, Williams is beginning to turn heads with what he's doing on Peacevale Road.
"I'm trying to put together a program, not just good teams," he explained.
Any high school coach knows that reaching back-to-back state championships is about more than just talent. Perennial contenders get to where they are, explained Williams, because of a team mentality and a winning culture.
"With that culture, it starts with being dedicated to getting the work done in the classroom first, and then being dedicated to the team--not yourself, but the team, being able to sacrifice at times your personal accolades for the accolades of the program. You can be a 20 point scorer, but on this given night I need to you to get 30 rebounds, do things of that nature. That's the difference, the difference is being selfless."
One advantage to establishing that culture is the amount of time Williams has to build relationships with kids and watch them develop. TechBoston Academy is a 6-12 grade school, meaning that many of the basketball program's stars over the years, including Dew-Hollis and Moore, were brought under Williams' wing as 7th or 8th graders. His "team over everything" mentality was instilled in them from an early age.
"Once we get them to buy into that, the winning's gonna come," said Williams. "Winning's the easy part. Changing your whole mentality, that's where the real work's at--to convince a young man to sacrifice and put a mission and a goal ahead of his own personal accolades."
The result of everyone from the players to the coaches to the faculty buying in? A burgeoning powerhouse basketball program. And beyond that, a veritable basketball family.
"It's all based on family," said Williams. "They know I care about more than basketball. Basketball is what's brought us together, but our relationship and what we build is what is making us family, working with them in school on a day-to-day basis."
Most coaches don't want to see their players get in trouble, but going that extra mile and putting in that special care is necessary for coaches and educators alike in a neighborhood where gun violence is an unfortunate reality.
"They know I care," insisted Williams. "My players make sure they get rides home because we know what's going on in the city, so we make sure to provide rides home, make sure we're in constant communication with guidance counselors so that [the kids] know if something's not going right, we're gonna hear about it. I've been in hospitals with players at two in the morning, with eight or nine of the guys and security asking us to leave the room 'cause we're too loud. If a guy's sick we're all calling in to check on him. They see the sacrifice that the coaches make."
The concept of family runs so deep and is so important to the Bears family that they view it literally: a coach's wife is a 'mother bear'; their children are 'cubs.'
Yet through the lens of the program, each TechBoston team is unique.
"This is a special team," said Williams. "It's just as special as last year's team, but these kids are doing it their own way. This is their identity."
Last year's team motto, borne from a schedule that saw them play the majority of their games on hostile courts, pitted the Bears against the world: "We all we got." This year, Williams says the low preseason rankings and wide-prevailing doubt in a TechBoston repeat had his kids playing "with a chip on their shoulder." It's a gritty, prideful attitude that one would expect to see in a determined group of city kids from Dorchester. But Williams understands that behind that determined front, it's all love.
"We're a family," he emphasized.