By Bill Forry and Maddie Kilgannon
January 27, 2021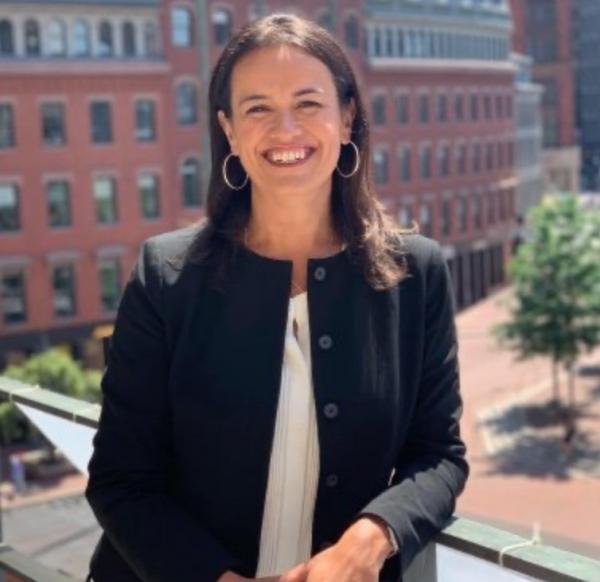 Annissa Essaibi George, a citywide councillor and former Boston schoolteacher with deep roots in Dorchester, will announce her candidacy for mayor of Boston today. The 47-year-old mother of four and small business owner will join what is now a three-woman race— including two of her colleagues from the council— to succeed Mayor Martin Walsh, who is expected to resign in the coming days.
She will launch her campaign outside of East Boston High School, where she worked for 13 years as a BPS educator before running for public office.
"Boston needs a leader at this moment to not just get through the crisis but to get us through a sustained recovery," she told the Reporter. "I think if we can get through this pandemic, we are really going to see Boston reborn and I want to lead Boston through the rebirth."
Essaibi George, who owns The Stitch House on Dorchester Avenue, joined the council in 2016 and has gained a solid citywide profile. Her signature "hot lips pink" and white campaign signs first began popping up across the city in 2013 when other first-time candidates included Michelle Wu, who gained a seat on the council, with Essaibi George coming up short. In 2015, when she beat out Steve Murphy for an at-large seat, she noted to the Reporter that there was "an appetite to increase the number of women on the ballot."
With this announcement, she joins a pool of mayoral candidates that to date is exclusively women, mothers all.
In 2019, she was the second-highest vote getter among the at-large candidates, finishing behind Wu, who announced her candidacy for mayor last September.
Andrea Campbell, who represents District 4 on the council, is also a candidate for mayor.
"I'm very excited to hit this race running with colleagues," Essaibi George told the Reporter. "We have all developed personal relationships with each other. We spend time together and have gotten to know each other's families.
"We all love Boston. I do think my experiences as a teacher and small business owners and someone who has been involved in my community my whole life, gives me a unique experience," she said. "It's my experiences that make me the best candidate."
With maternal grandparents who were born in Poland, Essaibi George is the daughter of an immigrant father who came to Boston from Tunisia in 1972. "I don't come from a political family," she said. "My parents and grandparents voted and I remember going with them to the polls, but they weren't political people."
She first became enamored of politics as a student at Boston Technical High School in Roxbury, now known as the John D. O'Bryant School of Mathematics and Science. She was active in student government and served on an advisory council that lobbied then-Mayor Ray Flynn for budget items on behalf of the school.
"I told my father at the time— 33 years ago now— that I recognized how important government was and that maybe someday I would consider running for office," Essaibi George said. "He said, 'With an Arab name, you'll never get elected to anything in this city.'"
That conversation, she noted, is on her mind this week as she launches a campaign for mayor. "I want be in this race knowing my voice matters and having a city-wide organization and success that speaks to the desire of the people of Boston to have my voice in that executive role," she said.
Her campaign will have its headquarters in the same Dorchester Avenue storefront where her grandfather once ran a TV repair shop. Until recently, the space was occupied by Gately Insurance, which closed its doors last summer after 25 years, "in large part because of the pandemic," Essaibi George said.
Dorchester is likely to become highly competitive ground for what looks to be a growing number of candidates from the neighborhood. Two other potential candidates with Dorchester roots are John Barros, who lives in Uphams Corner and ran for mayor in 2013. He has served on Mayor Walsh's cabinet as Economic Development chief throughout his administration. Also still weighing a candidacy is William Gross, the city's police commissioner, who spent much of his youth in the neighborhood.
Essaibi George and her husband, Doug George, a real estate developer and builder, live in Dorchester's Polish Triangle section. They have four children: Douglas, 16 and 14-year-old triplets Charlie, Kayden, and Samir.
Her campaign plans to hold a standout tomorrow in front of her three-decker childhood home at the corner of Taft Street, the same street that her longtime friend and political ally, Marty Walsh, was raised on.
The two leaders share another connection: Both served terms as president of the same civic association— Columbia-Savin Hill— before seeking public office.
Essaibi George said that Walsh had been the first one to call and tell her that she'd won a council seat in 2015.  "I am proud of my longstanding friendship with Mayor Walsh," she said on Wednesday. "I'm also proud of the independent voice I've brought to the council."
Over the years, she said, she has been "productively critical of things I'm not 100 percent on board with" with respect to the Walsh administration. "It's important to have that dialogue. When I think back on the Walsh administration, it's hard to not first think about his handling of the pandemic and its impacts.  This has been the most critical time. For all of the challenges our city has faced over the years, this has created a heightened awareness of those inequities. I'm very proud of the work Mayor Walsh has done to lead and guide this city at this time. It creates a lot of anxiety about what's next, but it reminds me of all of the work that remains undone." 
When she was running for an at-large seat, her team's campaign strategy was always simple: "Being everywhere." Her time on the council has been marked by her interest in education, homelessness, mental health, and recovery services.
Now, in her now sixth year on the council as she pivots to a mayoral run, she brings with her an already established base of city-wide support.
"I'm not walking away from my responsibility as a city councillor," Essaibi George said. "We'll continue to do that work in partnership with then-acting Mayor Janey. Government is a team sport. We have a lot to do in the interim, and I will continue my work."
Bill Forry is the editor of the Reporter. Maddie Kilgannon is a correspondent for the Reporter focused on this year's municipal election(s) in Boston.