By Gintautas Dumcius, Managing Editor
October 20, 2021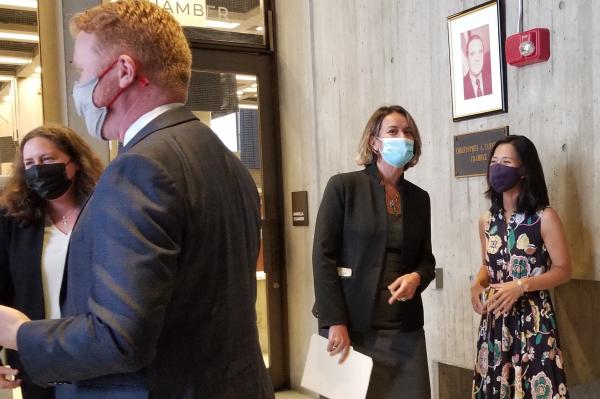 The super PAC chaired by former Boston police commissioner William Gross is ramping up its efforts to support mayoral contender Annissa Essaibi George while blasting her rival for the job, Michelle Wu.
Details on the spending behind the new advertisements — the radio ad airing on WBZ and WEEI and the other on TV — were not immediately available. Super PACs are outside groups without spending or fundraising limits, though they are prohibited from coordinating with candidates and their respective campaigns.
The super PAC led by Gross, "Real Progress Boston," is one of two outside groups actively supporting Essaibi George, who is down 30 points in two recent independent polls. "Real Progress Boston" is a separate political operation from "Bostonians for Real Progress," the other active pro-Essaibi George super PAC, which launched its own TV ad earlier this week.
Just before the Sept. 14 preliminary, "Real Progress Boston" received $495,000 from New Balance chairman Jim Davis, a top Republican donor who also donated to former mayor Marty Walsh. The outside group plowed it into radio, TV and newspaper ads in support of Essaibi George. It has largely stayed out of the spotlight since the preliminary.
Wu also has two super PACs backing her in the mayor's race, with much of their funding coming from environmental advocacy groups, attorneys and real estate interests. One of them, "Boston Turnout Project," also went up on TV, but so far has stayed positive in their efforts to boost Wu.
Unions which have endorsed Wu (SEIU 1199) and Essaibi George (Massachusetts Nurses Association) have also started spending on digital ads and mailings.
Essaibi George, who criticized the Gross super PAC's ties to a firm that worked on Donald Trump's 2016 presidential campaign, previously told the Reporter that super PACs should stay out of the race, while Wu said they should stay positive.
But the Essaibi George super PACs are disregarding both requests. Essaibi George's campaign, which cannot coordinate with the super PACs, did not respond to a request for comment on Wednesday about the latest super PAC ad.
According to George Regan, the PR magnate working with "Real Progress Boston," Gross is planning a Friday trip to Massachusetts Avenue and Melnea Cass Boulevard to promote a new TV ad. Known as "Mass and Cass," the area is the site of homeless encampments that have emerged as a top issue in the mayoral campaign.
The Reporter on Wednesday obtained a copy of the TV ad, which focused on Essaibi George, and received the text of the radio ad, which targeted Wu.
In the Gross super PAC's TV ad, a narrator says, "Sure, our town is not perfect. That's why we need people who aren't afraid to roll up their sleeves. Annissa Essaibi George is from Boston and more importantly she is for Boston." The narrator adds: "A vote for her is a vote for a Boston that works."
The Gross radio ad claims Wu supports "defunding the police." "We must have the backs of our first responders and their families like they have hours," Gross says.
Outside Boston City Hall on Wednesday, Wu called the radio ad inaccurate.
"I've stated frequently at candidate forums and in many conversations that we need to invest more in public safety and health, but make sure we are using those resources in a way that is meeting residents where they are at with the services that they need," she said. "That means allocating funding for a public health-led response to crisis calls for mental illness and issues related to homelessness and substance use."
She continued: "That means getting accountability for misconduct and particularly how our overtime dollars are spent, cutting that wasteful and fraudulent overtime spending and using those resources to help stabilize our communities."
"Real Boston Progress," which in previous filings listed police unions as major donors, has not filed a spending report with campaign finance regulators since Monday, Sept. 20.
Earlier this week, the other super PAC, "Bostonians for Real Progress," said it was spending $125,000 on a combined digital and TV ad buy on a 30-second ad called "How to Defund," which claimed Wu wants to "defund" the police. The super PAC listed its donors in the ad as the IBEW electrical worker and firefighter unions, Cargo Ventures LLC, Marquis Management and Rowlandstown Plastering Inc.