By Gintautas Dumcius, News Editor
July 30, 2013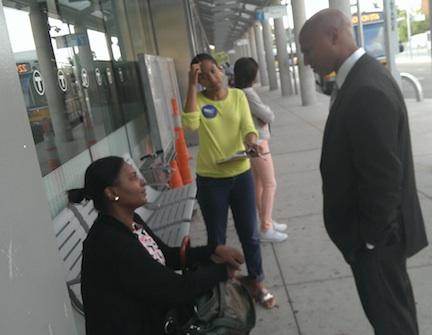 "My husband is running for mayor of Boston," said Tchintcia Barros, who was standing outside the door as people poured out of the Route 27 bus on a Monday morning. "Good morning, my husband is running for mayor of Boston," she said. "Good morning, my husband John Barros is running for mayor of Boston," she said again as they hurried to catch the train.
"I'm not political," one woman responded, heading into the Ashmont MBTA station. "I'm all set," a second woman said, waving her hand. A third woman stopped and smiled as Tchintcia (pronounced chin-see-ah) handed her some campaign literature. Another commuter pulled headphones out of his ears to listen to her pitch.
Steps away, Tchintcia's 12-year-old nephew teased her 15-month-old son – John Jr. – in the stroller. She is due to have another boy in September.
At the other end of the T station, John Barros, his campaign manager Matt Patton in tow, shook hands and chatted with people waiting for a bus.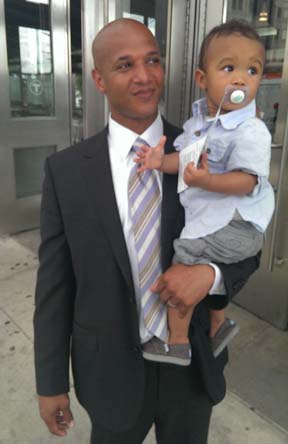 John Barros with his son, John Jr.
For Tchintcia and her husband, campaigning isn't a new thing. A community organizer, John Barros, 39, worked on President Obama's campaign in Massachusetts. Tchintcia, 34, started at an early age: she was 11 when she worked on Nelson Merced's campaign for state representative.
The pair married in 2011, with Mayor Thomas Menino in attendance.
"At a young age, everybody votes in my house," Tchintcia said. "Even if it's a small, small election."
It was at her urging that Barros waded into the race in April. He had been planning to take a leave of absence as director of the Dudley Street Neighborhood Initiative (DSNI) anyway, since Gov. Deval Patrick was expected to tap him to head a new partnership between Roxbury Community College and Madison Park Vocational Technical High School.
The first person of Cape Verdean descent to serve on the city's seven-member School Committee, Barros resigned from that post, stepped down from DSNI, and jumped into the mayoral fray.
Three months later, the two of them were seeking out voters at the MBTA station as part of his campaign's "Stand Up Now" initiative, aimed at registering potential Barros supporters to vote and engaging residents in a mayoral contest that has yet to catch fire. Voter registration forms and "Barros for Boston" campaign materials were neatly stacked on a table set up just outside the side doors of the station.
Twenty-four hours after his stop at Ashmont, and far from the commuting crowd, Barros stood in a sunlit conference room on the thirty-fourth floor of a Financial District skyscraper. "This is an amazing view," he said, stealing a quick glance at airplanes landing at Logan Airport before turning to face the group of 17 people who had come to hear him speak.
Barros started with his family's humble beginnings: His father worked on a cranberry bog on the Cape for ten cents an hour before starting a family in Roxbury. "It's an American story, a Boston story," Barros said. But there is "social isolation" in the city's neighborhoods, on top of "closed systems" aimed at harboring political capital, Barros added. "We can really open this city up," he said.
He pointed to the overhaul of the student assignment system. A mayorally appointed panel tasked with revamping the unpopular system made reams of data publicly available. A student from MIT took an interest in the data, and came up with a program that set up a home-based system – an assignment process that takes into account where students live and the quality of schools near them.
"This is what you do when you open a closed system," Barros said. "As a city, we have to engage in that way, where it's not a closed room deal."
Then came the question: How do you plan to win?
"It's a data-driven, on-the-ground, grassroots effort," Barros said, noting that he had just hired Marcus Starr, who had worked on Ed Markey's Senate campaign and had overseen the voter files at the Massachusetts Democratic Party.
The Barros campaign is asking voters to "stand up now" because it's a nicer way of saying "get off the sidelines" as some, citing a concern about potentially backing the wrong horse in public, are doing, he added.
The Sept. 24 preliminary, which will winnow the field of 12 candidates down to two, will probably see a "universe" of 150,000 voters, he said. To get to the final, you need between 30,000 and 35,000 voters, he added. (In the general election, the universe of voters will likely be 250,000 to 260,000 voters, and 150,000 to 160,000 voters will be targeted.)
While the general election in November will likely be about commercials and newspaper ads, the preliminary will be different, Barros said. "It's not going to be TV ads. It won't be signs. It really is about human contact. And that's how we're going to do it."