By Mike Prokosch, Special to the Reporter
April 14, 2016
Twelve years ago Andy Schroeder and Debbie Munson bought a one-family home near Ashmont Hill. They fell in love with the neighborhood, joined the local civic group, and became bike and park advocates. But the house cost a lot to heat. It always needed repairs. The yard took constant attention. So they decided to sell their home and buy a condo.
"We looked in Ashmont, Lower Mills, Savin Hill, Fields Corner, a little of Uphams Corner, and we started questioning the high prices," said Munson. "We felt dismay. There were so many three-decker condos. Why weren't they affordable? We have two incomes. We both work in software. We're making a good living. If it's hard for us, what would it be if your price range was even lower?"
Schroeder and Munson found a spacious condo on Neponset Avenue, but the search left them wondering what's happening to housing in Dorchester.
"Who's buying these properties?" asked Munson. "Where are they moving from? Were they priced out of South Boston? Moving from other parts of the city? Are there really so many people with higher incomes?"
•••
'Vicious cycle': Sandra Teixeira has lived on Hamilton Street for a decade, across the street from her daughter. Jennifer Smith photo
Sandra Teixeira has an affordability problem. She's lived off Bowdoin Street on Hamilton Street for ten years. "My landlord decided he wanted me out," she said, "and under today's no-fault eviction law, you don't have to have a reason to tell someone to leave.
"I've been looking for a new apartment but prices are higher than people can pay. And a person who's forced to move has to come up with a big lump sum. You need the first month's rent, the last month's rent, and a security deposit. Then there's the cost to move – movers, moving trucks. The expenses keep piling up. Moving is a major task.
"A lot of people are experiencing this. I've been door to door talking to people about gentrification and they are facing similar situations. The landlord wants possession. The rent gets raised. And you don't have any recourse.
"I like to be stable. I have an eleven-year-old, he's been in the same school four years, he might have to move. I'm not a young girl. For me to go out and work I have to have a home because home is a place of peace, a place of comfort, a place to recharge my batteries. Without that, it's like another vicious cycle going around."
•••
Anthony Dabney knows knows about stress. He and his young son have been living in a 36-unit apartment building on Hancock Street for eight years. "It's a decent size apartment," he says. "The rent is reasonable. To have to get up and go to another place and maybe not afford it – all that is stressful."
Dabney didn't think about moving under his old landlord, who maintained the building and kept the rents at Dorchester levels. But when the building changed hands, "the dumpster started overflowing with trash. We complained so much he finally sent someone, but the truck couldn't get in because he hadn't plowed the driveway. The electric company put up a notice that the emergency and hall lights were going to be shut off because he hadn't paid.
The halls were really dirty and drug users started hanging out there. There was trafficking, prostitution, drug use. Our kids couldn't go in the halls any more and people's mailboxes started getting robbed at Christmas time.
"So we formed a tenant association. We called the city Inspectional Services Department about the code violations and we got in contact with the Boston Police Department. The landlord did just enough to get the building up to code, and he sent an increase in rent right away.
"It was stressful. To have a rich guy come in and say I don't even have to meet with you – I may be evicting you. Some of us were scared of eviction and retaliation. They didn't want to come to meetings or speak out because they didn't have a place to go if they were evicted. When we found out he didn't have to have a reason to tell us to go, it still looked scary, but we knew if we stuck together it'd cost him a lot to take every one of us to court."
The tenant association got support from City Life, a housing rights group that organizes in several Boston neighborhoods. "City Life's lawyers were really great," said Dabney. "They told us the rent increase was retaliation and it was our right not to pay the increase. We continued to protest. We did rallies in front of the building, put signs in our windows."
After two years the landlord sold the building. "We met everyone from the new building manager to the groundskeeper," said Dabney. "We have numbers. We'll get a 3 percent rent increase every year."
•••
Maria Baptista doesn't know if she'll be able to stay in Dorchester. Ten years ago she was living in Randolph, but she wanted to come to the city. "In 2007, I bought a house on Fox Street for the family," she said. "My brother wanted to buy so he could live on the third floor. My sister was on the first floor and we rented out the second floor till 2010 when I moved in. I had four boys and I raised a girl for my brother. The two oldest boys are working, the third is in college, the fourth in high school, and the girl is still with me.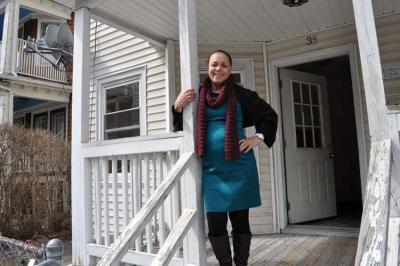 Fears displacement: Maria Baptista stands on the porch of her Fox Street home, which has been foreclosed upon. Jennifer Smith photo
"The house was expensive, $500,000. The mortgage went up from $2,000 to $3,800 a month. I got into an accident, lost some of my memory, couldn't work, I couldn't pay the mortgage and I was foreclosed. My husband moved out – I guess he couldn't take the stress. It's crazy. It's the place I used to live with my kids.
"I would like for the bank to sell back the property to me for the money they got for it, so I can live here with my family. But the bank refused to sell the house to Community Capital – they wanted a $100,000 down payment. They sold it to investors for $360,000.
"City Life asked the investor if he'd sell it to my mom. He refused. He's going to sell it for $600,000, he said. And we know how much he paid for the place so we're not going to pay that.
"The banks are so mean. They have big lawyers. I'm very frustrated. I have all these things over my head with my sickness. I'm one step out the door. It's too much stress for me."
•••
Who is buying Dorchester homes for half a million plus apiece? And who is paying over $20,000 for a year's rent?
You've probably heard some of the explanations. Cities are hot again. Empty nesters want to get out of the suburbs and back to the action. College students stay after they graduate, and three or four of them together can pay those high rents. If their parents are well off, maybe they buy their kids an apartment while they're still in school.
The Boston Foundation has a more straightforward answer: Boston's economy is growing fast and so is its workforce. The foundation's annual housing report for 2015, "The Housing Cost Conundrum," notes that greater Boston has gained 100,000 new jobs in the past two years. "Those working here have to find a place to live, and this has driven demand for housing to new heights." Growing demand and limited supply means that prices go up.
If that's the problem, the solution is clear: Build more housing. But Jim Campen sees more. Campen, a retired UMass Boston economics professor, has studied fair mortgage lending in greater Boston for 22 years and he's familiar with Dorchester's housing economics.
"Increasing the supply won't necessarily satisfy the demand," Campen told the Reporter. More supply could just pull in more new renters and buyers. "In Cambridge, if they build more housing, Cambridge just becomes more attractive. More fancy restaurants will open up. Those will attract more new people. Has new housing around Ashmont Station driven prices down? Or does it make Ashmont a nicer place to live, so more people move in?"
Campen agrees on the need for more housing. But, he says, that won't solve the problem of affordability. "If you want affordable housing, you have to build affordable housing."
Carla Stovell, a Dorchester realtor, agrees. "We have to be mindful of what kind of housing we're building and who we're building it for," she said. "There's housing being built but who is that housing truly being built for? Who can truly afford to live in the Ink Block?"
•••
Maybe we don't just have a supply and demand problem. Maybe we also have an inequality problem. Supply and demand explains why rents and home prices are going up. Inequality explains who can afford those higher prices.
Let's say you can't scrape together the $100,000 the bank wants for a down payment.
Let's say you can't get a lease on an apartment because you can't come up with three months' rent for the first month, last month, and security deposit.
And let's say you've found the house you want, but while you're waiting for the bank to approve your mortgage, someone swoops in and buys it for cash.
These are all cases of wealth inequality. The numbers show it's highly racialized. If you look at families' net worth – what they own minus what they owe:
African-American families' median net worth was $11,000 in 2013.
For Latino families, the figure was $13,700.
For white families, it was $141,900, or more than ten times higher.
Of course there are plenty of white families in Dorchester who own less. These figures simply say that a typical black or Latino family will find it a lot harder to lay out a $100,000 down payment on a home, or come up with three months' rent to lease an apartment.
Next Week: A look at what can be done to keep Bostonians from being priced out.
For previous Reporter coverage on related topics:
One-third of Dorchester households now use food stamps
Fears of 'displacement' in Codman Square as housing costs, demand rise
Shame on you, Bank of America
Housing plan must work for city's most vulnerable
Tenants at 200 Hancock St. hold rally for safety, decent housing, fair rents
Seller's market: Boom creates new pressures in Dot market
Development costs cripple both builders and buyers
City needs to clarify its goals on housing
Advocates: Housing plan could hurt Section 8 holders
Mattapan forums asking: How to help residents stay here?
In Mattapan, youth engaged in anti-displacement cause
Walsh adds $1.3m to budget to bolster homeless initiative