By Katie Trojano, Reporter Staff
November 6, 2019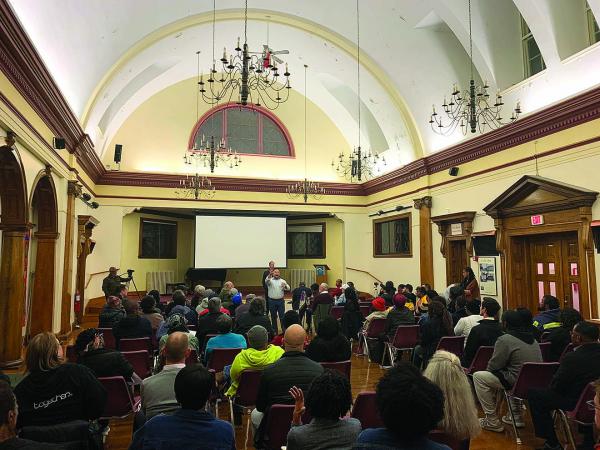 A team from Popeyes Louisiana Kitchen met with neighbors in Codman Square last week to discuss its most recent proposal to open one of the chain's fried chicken restaurants at 572 Washington St.
The eatery has been attempting to open for business at the corner of Kenwood Street since 2016, when the city's Zoning Board of Appeal declined to give permission to the outlet at a time when residents were expressing strong concerns over the lack of healthy food options in the neighborhood.
Rather than re-apply for permission for a new type of restaurant, the company appealed the board's decision in Suffolk Superior Court, arguing that it was merely modifying an existing restaurant space at 572 Washington St., which would not require zoning approval.
The next step for Popeyes is to secure an operating approval from the city's licensing board. "It's already built, the gas works and the electric works," said Brian Haney, an attorney representing Popeyes. "All we need to do is hire folks, train everybody, and open up." 
He added: "I know this is familiar to a lot of you because this [proposal] has been on the table for two years now. We're sorry. Our introduction and launch to the neighborhood didn't go so well. But we have a 20-year lease, and we are committed to Codman Square."
Popeyes has spent more than $1 million to cover construction costs and nearly $150,000 in rent, taxes, and maintenance since 2017, Haney said. He also pointed to 195 letters of support from neighborhood residents who want the eatery to open.  
He said that the company hires locally, that it will provide uniformed security presence and updated parking lot lighting and security cameras at the site, and would commission the restaurant manager to attend monthly neighborhood meetings.
David Damato, Popeye's vice president of operations, said that the chain currently operates nine restaurants in the Boston area communities and is "really hoping" that Dorchester will be the tenth.  
"I'm not going to sit here and pretend that Popeyes is a health food operation," he said, "but we do have some healthy options."
Cynthia Loesch-Johnson, the president of the Codman Square Neighborhood Council, said that she would much rather see a healthy food option operate out of the space, and called the process through which the company received approval "criminal."   
In 2018, Popeyes resumed construction on the property long after the initial zoning denial, and without explaining the situation that allowed them to move forward.
City Council President Andrea Campbell told the Reporter in 2018 that the situation seemed to highlight a "breakdown in the process," where a permitting technicality allowed work to proceed on something the community vehemently opposed without any kind of notification or follow-up. 
"This is criminal. This would not be allowed in a wealthy white neighborhood," said Loesch-Johnson, to which Haney reacted: "Whoa! When someone accuses [us] of being criminal, civility went out the window."
The room grew loud and rowdy, with attendees talking over each other and many chanting, "Let her speak!" 
Loesch-Johnson clarified: "I did not say that Popeyes is criminal. I'm saying that this process is. I'm saying that this would not have happened in other neighborhoods and that the city of Boston shouldn't have let it get this far. We should not be able to see things being built out without this community process happening first." 
"This is not an issue with Popeyes. It's about the makeup of our community. We don't have healthy food options," she added before mentioning the prevalence of Type II diabetes in the community, saying "This is not an accident."
Haney replied: "We don't control the process, we are participants in the process. If you don't agree with the [licensing board's] decision, you can appeal it. We did, we won, and we're back. The insinuation that Popeyes targets or chooses a particular location based on demographics is not only factually incorrect; it is reprehensible, offensive, and dangerous." 
Wilfredo Salaman, a former Codman Square resident and pending manager of the proposed Popeyes, said that although the company may have made mistakes in the past, they're approaching the community process correctly "this time around." He added, "I've been in several community process meetings, and my involvement in the community is still the same. We're asking you guys for permission and now we are doing it the right way," he said. 
The room remained visibly split through the duration of the meeting with some arguing against adding another fast food restaurant to the neighborhood, and others saying, "If you don't want to eat fast food, don't go to Popeyes." Yet others said that they didn't see they point of arguing over the space while the lease has already been secured.  
"I'm listening to everyone, and I'm thinking about our options," said Alex Edwards. "But now I'm thinking we are going to have marijuana, chicken, and gentrification. Everything is changing for the worse." He continued: "If we want to change something, it has to start with one store at a time. We have to stand up sooner or later. Popeyes is not a bad company, we're just saying this is probably not the best space for it."
Cassandria Campbell, co-founder of local Fresh Food Generations, said that her company had previously been eyeing the location. "We had a food truck event right across the street and served 300 people in two hours. Everybody came to us and said, 'I wish we had this option in our neighborhood.'
She added, "We know the argument for jobs as a baseline is a poor argument. We have an employee that came to us from a Popeyes in Roxbury. He was getting paid $12 per hour; he's now getting paid $18 per hour with us."
Codman Square resident Laquisa Burke said that she's been at many of the community meetings and she sees both sides of the disagreement. 
"They didn't do the right thing, but do we penalize them for the rest of the time," she said, "when they have come back and they have tried to address every single complaint that we've asked for? It's okay that we don't agree, but at what point do we start to agree? You guys have got to try to compromise."