By Seth Daniel, Reporter Correspondent
October 21, 2021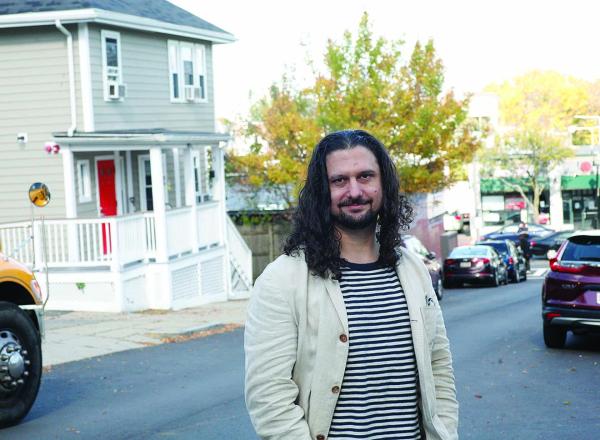 There's nothing new about police cars and ambulances zooming to Virginia Street. Neighbors say first responders frequent this Uphams Corner side street on a weekly basis, responding to emergencies and disturbances, often related to incidents at one or another group home on the block.
Last Monday evening, however, saw a far more serious situation unfold: A 43-year-old man was stabbed to death inside 6 Virginia St. The victim, identified as Peter Contois from Webster, Mass., had been living at the home, which is run by Victory Programs, a non-profit specializing in group housing for people in recovery.
There have been no arrests yet, but leaders of Victory Programs told the Reporter that the homicide was the result of an incident between two residents inside of the building.
Virginia Street spans about three quiet blocks and flows into Uphams Corner, but for a long time it has been a destination location for group homes and sober houses – offering services within a neighborhood setting for those in recovery, those coming off homelessness and/or reintegrating after incarceration.
While most neighbors said in interviews that they agree having such facilities is part of living in the city, they also think that the density on their street is now at a point where bad things are starting to happen.
Beyond last week's murder, there were two shootings on the street last summer, including one that was tied to another group home, neighbors said.
Victory Programs runs two homes on the street. Vinfen runs another two homes, and Faith House owner Joe Pizziferri Jr. operates two sober homes on the street and a third within eyeshot, on Arion Street.
Resident Aaron Larget-Caplan said neighbors have long had issues with the density and operations of homes, but 2021 has been historically bad.
"I call Vinfen more than I call my mother," said the music teacher who lives next to a Vinfen group home. "Ninety percent of the clients are wonderful and most employees are, too. When they keep people in the homes, they do a decent job. But it doesn't take much to have an issue."
Vinfen's communications director did not return a phone call requesting comment. Pizziferri, the Faith House sober homes operator, also didn't respond to an e-mail seeking comment for this story.
But Sarah Porter, who oversees Victory Programs — including the property at 6 Virginia St., did speak to the Reporter.
"It was horribly tragic and an out of the ordinary incident," said Porter. "It happened inside the building, which is horrible for those living inside the building, but may be better for people in the neighborhood. It's a horrible situation of violence we haven't had there in many, many, many years."
Like many neighbors, Porter agrees that neighborhoods like Uphams Corner are overburdened with service providers. But, she argues, the murder on Oct.11 shouldn't completely overshadow the important work done there.
"(Six Virginia has) been there a very, very long time, and it's been multiple things," she said. "Then 9 Virginia has been a recovery home forever. In terms of should programs be de-populated in historically overburdened communities like Dorchester and Roxbury that already support a number of these services – that's a given. At the same time, where should these housing programs be put? It's a delicate balance.
"You don't want to burden a neighborhood, but at the same time you need to put the help where people will use it," continued Porter. "It's a very difficult thing on Virginia Street. It's the same thing with Long Island or the hotel in Revere."
John Barros, the former mayoral candidate who lives on Virginia Street, doesn't want to start a campaign against such homes and services, but he also believes Virginia Street is oversubscribed.
"Like Mass and Cass, a concentration of houses providing certain services is a lot for any street in any neighborhood," he said. "I do think that is the case for Virginia Street. I'm willing to be a neighbor to homes that are providing services, but recognizing we have more than our fair share."
Barros added: "I don't want to be a neighbor complaining because I believe it's important to have these houses and places to go get services. I think some of the houses on our street are really well run and I want to recognize them for doing a good job."
City officials, he thinks, should re-examine the distribution of programs across the neighborhoods.
"There should also be a conversation about what concentration or numbers of people we should allow in any one neighborhood…There should be a conversation about the right density in residential areas…The question it also begs is how many per capita or per neighborhood. I wonder if Dorchester might have too many per capita," he said.
Sober Homes are a little different from group homes in that they aren't particularly regulated by the state or city, and are not an official mental health programs, but rather are a place where residents must remain sober as part of a lease agreement. They are not officially licensed or catalogued, but the Massachusetts Alliance of Sober Housing (MASH) does keep a registry of sober home landlords who register with them.
According to MASH, there are 22 registered sober homes in Dorchester – more than any other Boston neighborhood. Of those, Pizziferri operates seven of them, all known as Faith Houses.
Meanwhile, it has long been reported that more than 50 percent of the population using the city's shelter system have a last known address outside of Boston. That has led to numerous discussions about statewide decentralization of services and locating services outside of Boston closer to the homes of those who use the services.
Victory Programs provided statistics for its three homes in Dorchester, one in Jamaica Plain and one in Boston proper, and it showed that from July 1 to Sept. 30, some 55 percent of its clients had last addresses outside Boston or outside the state. Another 43 percent gave addresses in Boston. However, 83 percent were either actively homeless or had been precariously housed prior to coming to the programs.
"We don't often have people come into our services after being in Worcester," said Porter, who noted that the homes are for those that have already been through treatment programs elsewhere.
But Larget-Caplan, the Virginia Street resident, argues that sober homes are "making money hand over fist" while not contributing more to the city's tax base or to stability on the street.
"It just becomes a transient community with little or no ties to the community…I'm not being paid to babysit their clients. We don't see group homes on Beacon Hill or on Commonwealth Avenue. You see them in places the city tends to neglect. The daily quality of life has definitely taken a dive on this in 2021."
For her part, Porter says that many of the program participants are making great strides in life, thanks to the homes.
"If anyone was to come and visit the program, they would see how far many individuals in the program are from Mass and Cass," she continued. "Most in the program are re-integrating into the community…They are in dramatic turnaround mode. That's part of what makes Monday's tragedy so hard – both individuals were doing that when this happened."