By Meg Campbell and Bill Walczak
October 19, 2022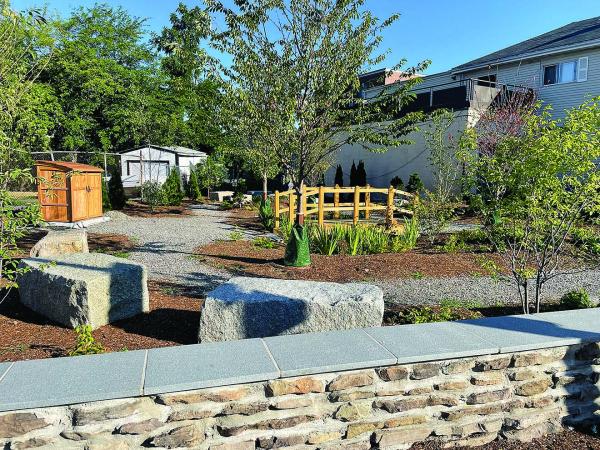 At 45 Norfolk St in Codman Square, there's a spit of land carrying a big dream. The 4,855-square-foot triangular space is sited next to what was originally a curving pathway used by indigenous tribes connecting the upper falls of the Neponset River to the harbor waterfront. Its odd shape and small size preclude residential or commercial development, so the lot was placed on the City of Boston's vacant lots inventory in 1991, an orphan waiting to be adopted.
As it happens, the nearby Codman Academy Charter Public School is rooted in the design principles of EL Education, which stresses the importance of the natural world. The K1-12 college prep school places a strong emphasis on environmental justice, which includes field work such as summer marine biology residential studies at Shoals Marine Lab off the coast of Maine and its annual autumn three-day camping and leadership course for students in grades 9-12 hosted by the American Youth Foundation in New Hampshire.
Since its founding in 2001, it has been important to the school's mission and vision that the natural world be integrated into students' daily education and lives. In densely populated Codman Square, however, the natural world could sometimes be a stretch of the imagination.
Codman Academy's upper school library looks out onto the 45 Norfolk vacant lot, so students and faculty are confronted by this eyesore every day. Beginning in 2012, school leaders approached different community gardening groups to encourage them to adopt the site. When there were no takers, the school began to work with the city to ensure environmental safety issues were addressed, as the lot had been a gas station and had water testing pipes protruding above ground. After a thorough environmental review which indicated that the gas tanks had been removed, the school solicited ideas for development from parents, students, faculty, and community members in 2014.
Raised beds were a top suggestion, so these were subsequently installed in the patio co-owned with Codman Square Health Center, and also behind the newly renovated K-8 Lithgow building. The school didn't need more raised garden beds. So 45 Norfolk sat vacant and unattractive, owned by the city. What could go there?
In 2018, Pre-K teacher and Dorchester resident Tasha Harris received a Pat Cooke Environmental Science Fund fellowship to become trained in the long-standing and well-researched Japanese practice of Forest Bathing, which promotes mental and physical health. Studies have found that even 20 minutes in a natural setting with trees can increase senses of well-being and happiness and decrease stress.
Upon returning from Costa Rica and earning certification in this practice, Ms. Harris proposed that 45 Norfolk Street be transformed into Boston's first Micro Healing Forest. "I take my 4-year-old students to the Arboretum, where they love to journal and play, but it is a trek by bus. I want to be able take them across the street, so they see the beauty in our own community."
Advanced Placement Environmental Science Teacher and Instructional Coach Ed Yoo embraced the idea as an opportunity to build an outdoor learning space and he joined Head of School Thabiti Brown on the working group.
Ms. Harris spoke before the Codman Square Neighborhood Council and Talbot Norfolk Triangle residents to pitch the idea, which was heartily endorsed. The school also obtained critical support from Codman Square Health Center in its proposal to purchase the land for $100 and develop a Micro Healing Forest to benefit the community as well as the school.
The landscape designer Liz Luc Clowes, who wrote her master's thesis on how the city of Worcester could reforest, was a natural ally. Ms. Clowes's design is characterized by thoughtful selection of materials, trees, and plants. She chose a stone wall because they have long been fixtures of the New England landscape. The wall in the Micro Healing Forest creates a sense of place, enhanced by carefully chosen granite seating and a stone suitable for standing on, called the "Poet's Pedestal."
Ms. Clowes enlisted the talents and skills of former Codman Square resident David Hurst of Hurst Landscape & Site Services for installation. An example of their collaboration was working together to curate the selection of granite for seating. They chose several kinds of reclaimed granite, representing local Quincy granite, New Hampshire granite, and a piece from the Longfellow Bridge, all hand cut. And in a nod to its Japanese Forest Bathing inspiration, the Micro Healing Forest has a meditative stone path leading to a small wooden footbridge and five Yoshino cherry trees, set to blossom next spring. A whimsical rock formation in the shape of a turtle welcomes younger visitors.
The focus of the forest is always on healing and learning.
The Pat Cooke Fund, Speak for the Trees, Fish Family Foundation, and the City of Boston provided generous support. The dedication of the Micro Healing Forest, a gift to the neighborhood that will be open to all, will be next Tuesday (Oct. 25) at 10 a.m.
This past June, Mayor Wu released 1238 more "vacant and underutilized" parcels spanning 9.5 million square feet across the city. Orphans all. None too small to contribute to the urgent need to expand our tree canopy and reforest Boston.

Meg Campbell is founder and former head of school for Codman Academy. Bill Walczak is president of the Board of Trustees and a co-founder of the Academy.