Neponset
By Anonymous
Jan. 25, 2011
FaNtastic Kids is a fun,FREE 12-week after-school fitness and nutrition program for children between the ages of 8-12. FANtastic Kids is a fun, FREE 12-week after-school fitness and nutrition program for children between the ages of 8-12 who struggle with eating healthily and staying active . FANtastic Kids takes place at the following sites:
DotWell Program at Dorchester House Multi-Service Center
Mattapan Community Health Center
YMCA: Hyde Park, Huntington Ave., Oak Square, Dorchester, Roxbury
The next session begins February 7th and ends on May 11.
Don't miss it!! Read more
By
Reporter Staff
Dec. 26, 2010
The city of Boston says that the snow emergency that went into effect yesterday will be lifted at 6 p.m. on Monday. The emergency order means that parking is prohibited on all major arteries in Boston.
In a noon hour press conference on Sunday, Gov. Deval Patrick said that service on the Mattapan high-speed trolley line would be suspended tonight and replaced with buses. All other public transportation is expected to follow a normal schedule.
"Residents are reminded to remain at home throughout the duration of this snow event and businesses tomorrow should consider asking employees to work from home," stated a press release issued by the city of Boston on Sunday morning. The city also is cautioning older residents or those with "health conditions" to "refrain from shoveling this heavy wet snow." Read more
By
Matt Murphy, State House News Service
Dec. 21, 2010
STATE HOUSE, BOSTON, DEC. 21, 2010…. As widely predicted, Massachusetts will lose at least one of its 10 seats in Congress during the 2012 election cycle based on population counts collected during the 2010 Census, according to data released from the U.S. Census Bureau.
During a conference call with reporters, Census Bureau officials confirmed Tuesday morning that Massachusetts is among ten states to be losing at least one U.S. House seat. Read more
By
Stephen Kurkjian and Pat Tarantino, Special To The Reporter
Dec. 16, 2010
Tina Chery: A pioneer in citywide efforts to curb violence, Chery's son Louis was killed in a December 1993 shooting, not far from her current office in Fields Corner..
The numbers are deeply disturbing: Nearly eighty percent of the shootings in Boston in 2010 have taken place in the three police districts that cover Dorchester, Roxbury, and Mattapan.
Last year, 223 people were killed or wounded by gunfire in Boston, and 174, or 78 percent, of the shootings took place in districts B-2, B-3 and C-11. This year, with several weeks to go, the number of shootings in the city has increased to 258, and, again, 78 percent of them were in these three districts.
The Search for Solutions
BPD Commissioner Ed Davis: Extra pressure on gang members
Rev. Eugene Rivers: Pastor convenes stakeholders, stresses "realism"
George Chip GreenidgeGeorge "Chip" Greenidge: Violent year spurs new calls for answers
Celeste Allan: Murder victim's mom finds community's embrace
Marivelle Crespo and Gina Patterson: BPD team aids families, heads off trouble
Tina Chery: Peace Pioneer seeks to improve coordination of services
Emmet Folgert: On alert for alternativesEmmett Folgert: Veteran youth worker connects teens with jobs
These stark numbers only convey part of the story. The real story, those on the front lines of the battle tell the Dorchester Reporter, is the impact this violence is having on those who live and work in these neighborhoods – and whether they will assert strongly to families, friends, and acquaintances that they will not tolerate the continued presence of guns or further criminal activity in the homes and on the streets of their neighborhoods. And, too, there is the overarching question of the role of the rest of Boston in this enterprise: Will they join Dorchester, Roxbury, and Mattapan – or abandon them – in taking on the challenge of saving the streets. Read more
By
Mike Deehan, Special to the Reporter
Dec. 8, 2010
Fourteen would-be charter schools have applied to the State Department of Education to be granted charters to start up new schools in Boston out of 23 across the state. Representatives from several of the applicant schools appeared before a panel of state education officials in Boston City Hall on Tuesday to press their case.
Though plans for the schools are still in the preliminary stages and locations for school facilities are not definite, some of the proponents for the proposals heard Tuesday vowed to serve underprivileged students from Dorchester, Roxbury and Mattapan. Read more
By
Tom Leahy, Special to the Reporter
Nov. 18, 2010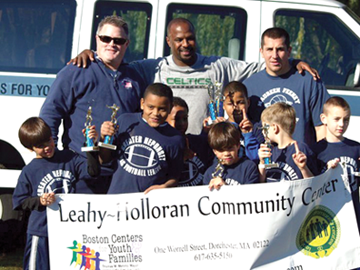 Greater Neponset Flag Football: The Patriots were one of the winning teams in the Greater Neponset Flag Football League championships held last Saturday. Top row: League commissioner Phil Carver, coach Desmond Tyler and coach Charlie Conners.
Late this past summer, the youth of Dorchester signed up to satisfy their quest for one of the fastest growing sports: youth flag football. The Greater Neponset Flag Football league commenced at the Garvey Park. The league commissioner, Phil Carver of the Popes Hill Neighborhood Association, had the foresight to run this program, not only in the fall, but on the heels of the Boston Center for Youth and Families summer program at the Garvey Park. Read more
By
Jackie Gentile, Special to the Reporter
Nov. 18, 2010
Mayor Menino tosses a jump ball at the re-opening celebration of the Leahy-Holloran Community Center on Nov. 6. Photo courtesy BCYF
Any first encounter between two residents of Dorchester is as likely to begin with, "What's your parish?" as it is with "What street do you live on." While the neighborhood's much-celebrated patchwork of Catholic parishes has yielded prominence to include other points of reference over the years, its relevance lives on.
Now comes a major fundraiser scheduled for Thanksgiving week: A "What Parish Are You From?" event to benefit the city-owned Leahy-Holloran Community Center fundraiser will be held next Friday, Nov. 26, at the Victory Road Armory. The evening will include cocktails, a cash bar, disc jockey and, of course, a major lure, in this case a $10,000 drawing.
A wall of fame, plastered with old report cards and school memorabilia, will be on display. And organizers are asking folks to bring along their own collections of neighborhood nostalgia. All funds raised will go to support the popular pre-school program at the community center, which has just been fully renovated and officially re-opened in a Saturday ceremony two weeks ago. Read more
By
Gintautas Dumcius, News Editor
Nov. 4, 2010
Superintendent Carol Johnson is delaying a vote on plans to close schools, giving parents opposed to the closures a month to regroup. Dorchester schools on the chopping block include Roger Clap Elementary and the East Zone Early Learning Center. School officials had also been pushing to merge the Lee Academy Pilot School and the Lee Elementary School.
"Overall, I'm optimistic that we have the extra month or so to get them to change their minds, and hopefully this opens up more of a debate," said Kenny Jervis, one of the parents leading the charge to keep Clap Elementary open. "We're happy we got the extra time but it's nowhere near a victory yet." Read more
By
Alex Owens Special to the Reporter
Nov. 4, 2010
Dorchester's spiritual community has borne firsthand witness to the community's history, which stretches back nearly four centuries. It was members of a church community, the First Parish Church, that founded this city within a city. After decades of service to their neighborhoods, many of Dorchester's church buildings are daue for a much needed facelift, and their congregations are turning to the city's historical organizations for aid. Read more