By Bill Forry, Editor
February 24, 2021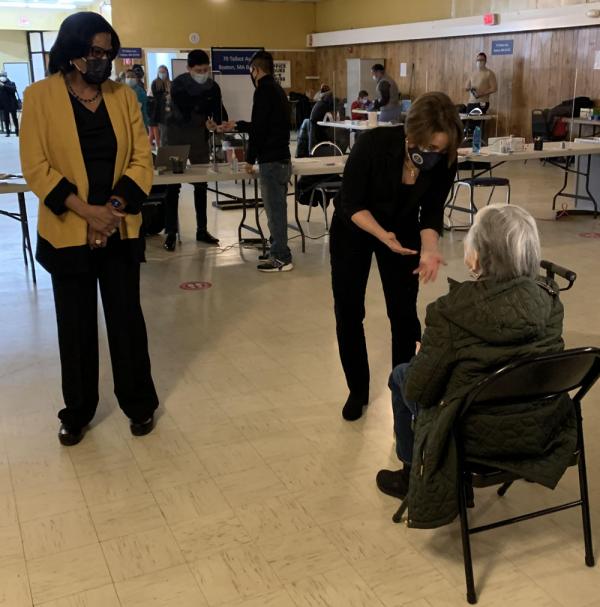 On Tuesday, two more Covid-19 vaccination sites, open to all eligible Boston residents, came on line in Dorchester and Mattapan. The Russell Auditorium and Morningstar Baptist Church joined a network of other options for those 65 and older— or with other conditions identified by public health officials. The sites are being managed by community health centers, which will work in coordination with hospital partners and the state to offer the doses. We're lucky to have such a robust and familiar team of health centers in place in our backyard.
The rollout comes as Gov. Baker and his team face tough questions from lawmakers and other officials about the state's vaccination system, which suffered an embarrassing mishap last Thursday when the web portal for making appointments crashed.
"It was a bad user experience, which we own," Baker acknowledged on Tuesday. "And we need to do better."
But there is encouraging news, too. Baker's administration can point to new statistics that show the Commonwealth now ranks No. 1 for first doses administered per capita among peer states with at least 5 million people, according to State House News Service. The same tracker shows that Massachusetts is now ranked second among comparable states for the vaccination rate for Black residents.
To keep pace and improve, we will need to count not only on manufacturers and the supply chain at the national level, but also on the competency of our own indigenous health network. Increasingly, that is going to mean our neighborhood health centers, which have deployed staff to administer the shots and observe patients before and after.
On Tuesday at the Russell Auditorium, Codman Square Health Center CEO Sandra Cotterell led Attorney General Maura Healey on a tour of the facility, which Cotterell describes as a streamlined "one-stop shop." The function hall on Talbot Avenue was already being used as a satellite location to test for Covid, but it has been transitioned to be exclusively a vaccination site, supported with staff from both Codman and Boston Medical Center.
The convenient location— right across the street from Franklin Field— is attractive to many of us. But, there's another element: Many of the staff who will greet and administer the vaccine shots are familiar faces— neighbors who are nurses and who can vouch for the efficacy and safety of the Moderna vaccine, which is the one that's on offer at the Russell. Cotterell says that has been a dynamic she has observed among the men and women walking into the function hall in the last few days.
The building itself has been a party spot and gathering place for families in Dorchester, Roxbury, and Mattapan for generations. And for anyone still anxious at the last moment, there are large posters throughout the space featuring images of health care providers and staff members of color who live in the community. They read: "I've taken mine. You take yours."
So far, Cotterell says, it's been working.
"The first cohort in the 75-plus range were showing up early and on time for their appointments and they were very excited to get it. They've been isolated and afraid to go out and see their grandkids," she said.
Here's more good news: In addition to the main of supply of vaccines, which are coming through the state, community health centers like Codman are now getting their own deliveries of doses directly from the federal supply chain.
"There's been advocacy and a noticeable shift to really get vaccines into the hands of the community health centers," says Cotterell. "They understand that we're boots on the ground and we have access to those patients in underserved communities."
- Bill Forry